I was 26 when I first faced the realities of deployment. My husband was stationed remotely near Wright Patterson Air Force base as a recruiter and we had three small children. After he deployed, I found myself extremely lonely and longing for a way to connect.
Because we lived about an hour away from a local military installation, making (and keeping) friends was a difficult task. In searching for ways to get plugged in, I stumbled upon a local quilting group that met at our church during the week.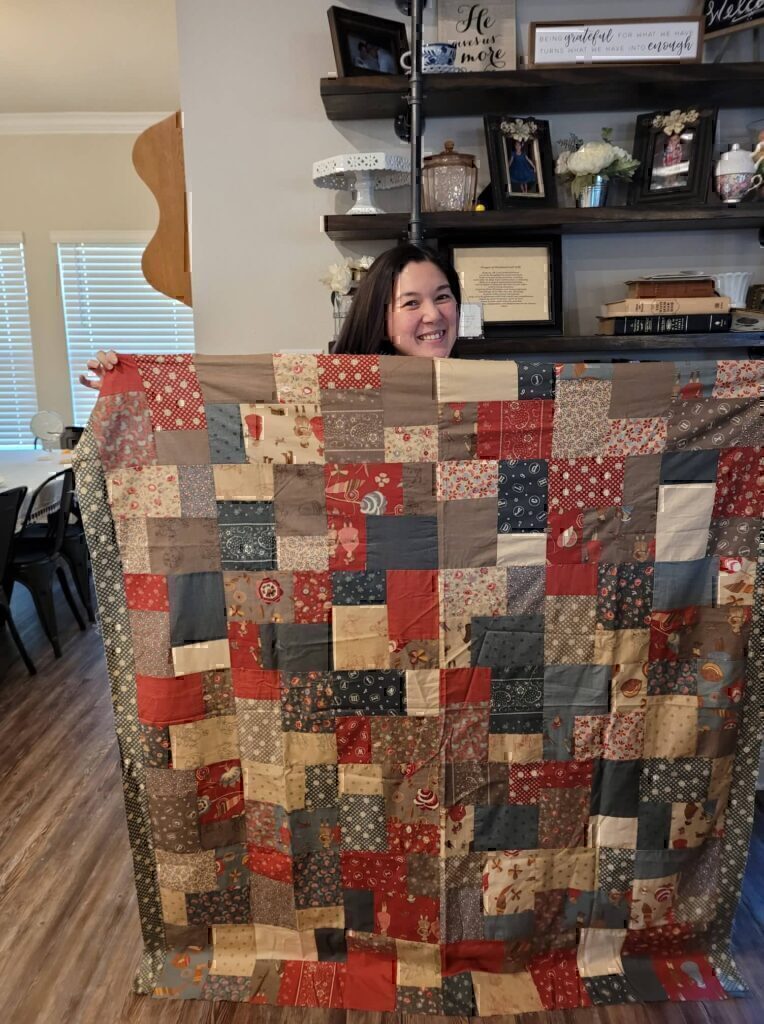 My mother had found great joy in quilting, and really had immense talent, in creating these beautiful works of art. I spent years watching her gather her favorite fabrics, skillfully build out blocks like a true artisan, and beam with pride as her hard work came to fruition in a soft, warm blanket.
Desperate for any kind of adult conversation – and with the hopes of creating a new connection with my mom, I swiftly loaded my children into my mini-van and headed to their morning meeting. I had no idea what to expect, but I was determined.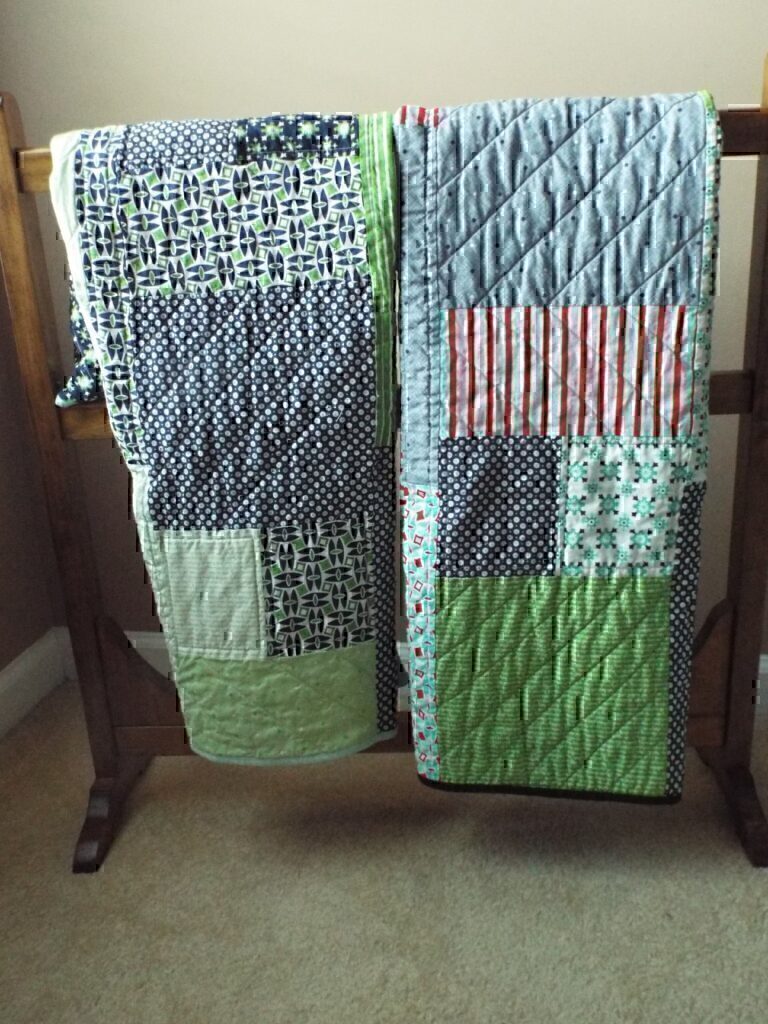 Nearly twelve women sat in a make-shift circle of tables with their sewing machines whirring and buzzing. They were all making the same quilt pattern- a zig zag block. Little did I know that these women would offer more than a mini break from mom mania. They would give me the gift of wisdom and encouragement. More than fabric was being sewn together in that meeting.
The common thread of quilting is a tie between the generations. Quilting is an artform that is passed down as a legacy. The layers of fabric, stitched together in love, tells a story. This time-honored tradition links us together. One army spouse started quilting to build a relationship with her family.
"I started quilting to bond with my mother-in-law, since my fiancé was living across the country. She and I happened to live in the same town and now share the love of quilting."

Rebecca Alwine, Army Spouse
Military spouses all over the globe are cherishing time together, passing quilting on to their children. Laura Schofield designed this quilt with her son, sharing the joy of creating new things together.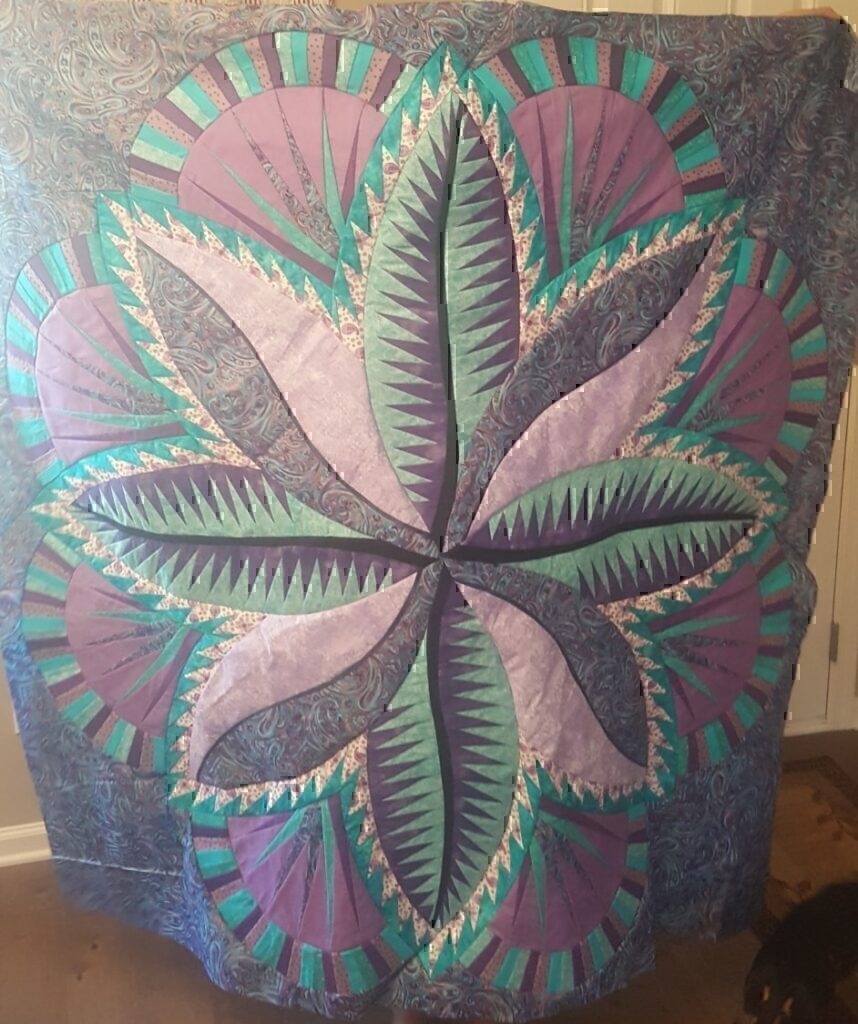 "I started quilting to follow in my mother and grandmother's footsteps. Quilting anchored me throughout deployments, pregnancy, raising babies, and PCS moves. I'll keep on quilting to remind myself that the practical things can also be beautiful and creative."

Laura Schofield, Marine Spouse
Ultimately, this art form is unique and creative. Quilts can be intricate or simple, but they are always stunning. The patchwork and stitching come together in such fantastic ways, leaving the admirer inspired and in comfort.
"I think my favorite thing about quilting is there are no rules in quilting that limit your creativity."

Heather Lawrence, Air Force Spouse
Quietly quilting gave me a way to connect to my family, create something new, and enjoy the warmth of a labor of love.
Megan B. Brown is a seasoned military spouse and military missionary. She is the Military Liaison for the Speak Up Conference Global Missions Military Scholarship and the 2019-Armed Forces Insurance Robins AFB Military Spouse of the Year. She is passionate about military mission work and teaching and preaching about Jesus in and out of the local church. Her Bible study, "Summoned: Answering a Call to the Impossible," published by Moody Publishers in Chicago, will release in April 2021. She lives in south Mississippi with her husband, Keith, and their energetic kiddos. She is a Bible teacher, speaker, and freelance writer. To learn more or connect with Megan, visit www.meganbbrown.com.