Read the full issue of Military Spouse Magazine:
IF WE GET THE CHANCE TO SPEAK TO OUR MOST SENIOR SPOUSES, WE MIGHT LEAN IN INTENTLY, EAGER TO LEARN THEIR SECRETS. AFTER ALL, PERSEVERING FOR DECADES IN THIS CHALLENGING LIFE MUST INVOLVE A SECRET OR TWO, RIGHT?
Dawn Goldfein, a former military child and the 35-year spouse of Air Force Chief of Staff Gen. David Goldfein, would tell you that she's struggled with a lot of the same stressors as many military spouses. She's also come very close to tragedy. But Mrs. Goldfein found strength in the very culture that's challenged her. Lean in, you're going to want to hear this.
EXPERT ADVICE FROM MRS. GOLDFEIN
In her 35 years of being a military spouse, Mrs. Goldfein has learned a few strategies that help her stay strong. They can help you, too, no matter where you are on your journey.
1: SET GOALS. Use moves and deployments as a chance to accomplish something new.
2: GET INVOLVED. Ward off loneliness by joining a club, signing up for base activities or volunteering.
3: GIVE TO OTHERS. Help someone else by volunteering or performing random acts of kindness.
4: KEEP "TREASURE NOTES." Save kind notes or cards, and read them when you feel blue. Mrs. Goldfein said that this restores her when she feels like she "can't give another ounce."
5: TREAT AND REPEAT. Mix indulgence, wisdom and humor when you're caught in a rough patch. "If all else fails, I recommend chocolate-covered peanut M&Ms," said Mrs. Goldfein, with a laugh. "And, as you're eating them, just remind yourself, 'this, too, shall pass.'"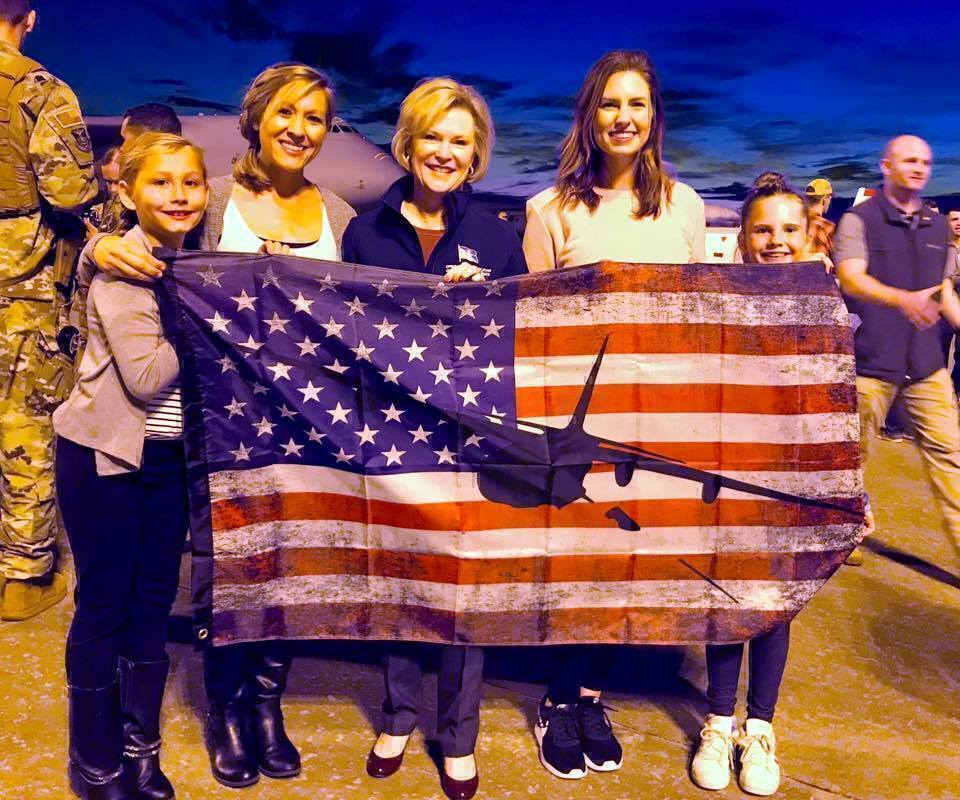 STRENGTH IN NUMBERS
Mrs. Goldfein's husband had two days notice for his first deployment. While he prepared to leave for Operation Desert Shield, Mrs. Goldfein prepared to stay home alone with their two babies. "I was petrified," she said. But she found that she wasn't truly alone. Drawing strength from the military spouses around her, Mrs. Goldfein realized that their shared experiences helped them persevere.
Mrs. Goldfein purposefully immersedherself in the military spouse community at each assignment. Becoming a regular member of spouses' clubs helped her overcome shyness and form important friendships. While overseas or at a remote location, Mrs. Goldfein said that spouses' clubs "were my lifeline."
But these relationships yielded more than social outlets; they also provided mentorship opportunities. "I think it's healthy to try to find someone you would want to emulate," she said. "That's what got me through." Mrs. Goldfein noticed that this culture of mentorship and support was an effective way to strengthen spouses. It helped her learn and grow.
She now works to continue this legacy, so that spouses who come behind her can benefit from the same tradition.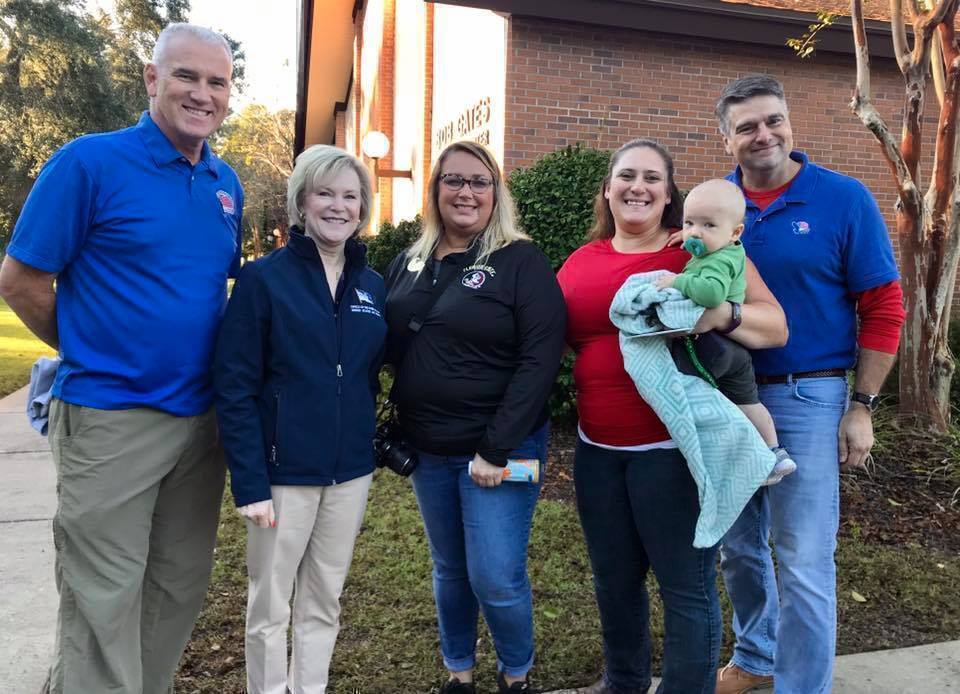 CALLED TO SERVE
As Mrs. Goldfein became more involved, she noticed a special quality about the military spouse community: service-mindedness. She said that when she embraced the service life, things changed. Her own problems seemed "miniscule." Military spouses who served their communities seemed to have endless stores of strength and energy. They managed big responsibilities and multitasked in high-intensity circumstances. Mrs. Goldfein saw that the act of service strengthened the spouses who served, as well as the communities they helped. It was a realization that inspired her.
"Once I started getting involved with other spouses or organizations that would help, I realized this institution, this thing called the service, is bigger than myself," she said.
THE BIG PICTURE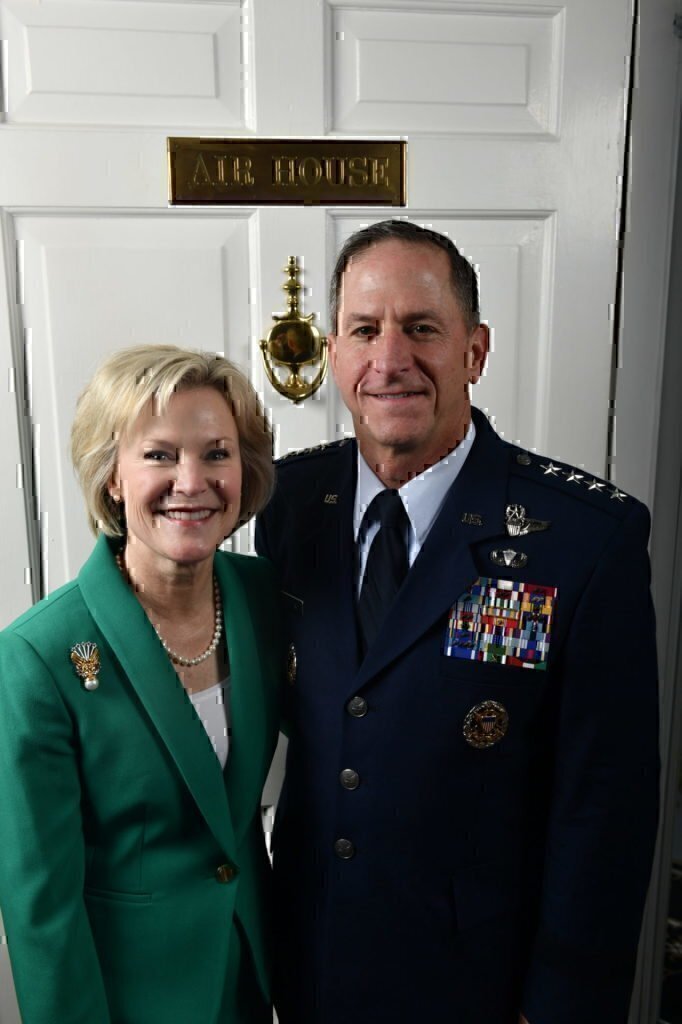 Mrs. Goldfein has moved 21 times, worked as a teacher, stayed home with two daughters, served numerous causes and accompanied her husband to countless events. She has worn many hats and struggled to find her identity at times.
But Mrs. Goldfeinlearned not to focus on life as a collection of unfinished beginnings; instead, she focused on life as a series of "short spurts" and found value in each of her roles.
"I think it's important to embrace the journey along the way," she said.
This mindset helps her stay focused and recognize that serving alongside her husband fulfills a higher purpose. This could be nowhere more evident than in the days following May 2, 1999, when Mrs. Goldfein was notified that her husband's F-16 was shot down over Serbia. He was alive, but his condition was unknown. She anxiously awaited news and prayed.
Later, her husband emerged from an aircraft, "a muddy mess" and saved. Such a scare could prompt anyone to want to quit military life. Instead, Mrs. Goldfein remained firmly in place, feeling compelled to honor those who rescued her husband.
"There were so many people who, because they are so professional and so good at their jobs and never became complacent, that my husband is around today," she said, speaking of the egress team, fellow pilots, the rescue team and others who contributed to her husband's return.
She sent them personal notes and hosted Thanksgiving dinner that May.
Perhaps this shares a secret to persevering in this life. Staying strong involves remembering that we are part of a most unique community. We are not sent forward or left behind alone, and our in-betweens are fired with a fierce desire to make better what we already have as military spouses.
Want to share your story or thoughts on this topic or other important topics facing the military community? Email us at [email protected]