By Maria Reed
The holidays are my favorite time of the year. The smells, the holiday decor, hosting family and friends. But sometimes, the holidays are overwhelming and costly. That's why many military families turn to the commissary to help them save money. Army Command Sgt. Maj. Tomeka N. O'Neal, senior enlisted advisor to the Defense Commissary Agency.
(DeCA) director, said, "Using your commissary benefit is always a smart idea if your goal is to save your hard-earned money; this particularly holds true during the holidays. Whether you need dinner ingredients for that holiday meal, bowl game snacks or munchies for the children while they're out of school, your commissary has what you need without breaking your holiday budget."
Here are some cost-saving tips for shopping at the commissary this holiday season:
1: Go online to the DeCA website and access the biweekly featured items and sales flier.
Authorized shoppers can login to see the biweekly featured items and sales flier with discounted products; every two weeks it reflects products as they go on sale. The flier also contains three dietitian-approved recipes – one for a featured produce item, meat and then a "Thinking Outside the Box" meal solution, where many of the recipe items are marked down an additional 20%.
2: Exclusive savings on select frozen turkeys.
Commissaries worldwide are offering limited weekly quantities of frozen turkeys at 48 cents per pound through Dec. 31. Plan ahead for your holiday meals and take advantage of these special seasonal savings while supplies last. Weekly available quantities of frozen turkeys are expected to increase closer to Thanksgiving.
3: Commissary brands.
Commissary brands are high-quality, lower cost alternatives to national brand products. You can find a selection of brands at your commissary today, which can differ from store to store depending on store size and location.
4: Commissary gift cards are the perfect gift to suggest to family and friends looking for a way to support your family.
This gift allows the recipient to stock up on grocery essentials they need for the holidays, saving their paycheck to use on other things that will make their holiday amazing. Anyone, even those not military affiliated, can purchase commissary gift cards, available in denominations of $25 and $50, in stateside stores or online.
5: The "Your Everyday Savings!" (YES!) program makes savings on popular-selling brands a year-round occurrence.
These top products can now enjoy consistently lower prices over the long term, which means more savings now and in the future over the same products found in nearby grocery stores. Hundreds of items, such as cereal, baby food, bottled water, bananas, energy drinks and toilet paper, are available now with more products to come. And the wide selection of YES! items can be reduced in price even more during additional promotions happening now or in the future. Just look for the YES! items with the bright orange labels to save every day.
6: Look for the 2019 Turkey Coupon Booklet.
Your holiday turkey could be free turkey with the 2019 Turkey Coupon Holiday Booklet at your commissary. Purchase a fresh or frozen whole turkey in the same transaction as other products featured in the booklet and you can combine the coupons from the booklet to save up to $21.30 on your turkey. Coupons valid Nov. 1 – Dec. 31; booklets are expected to be available in commissaries by November.
7: Schedule your time to shop.
To avoid busier shopping periods, the best days to shop are non-payday weekends and days before major holidays. Check your store's homepage on commissaries.com to see if they have "Early Bird Hours" which are usually from 7:30 a.m. to 9 a.m. Store hours vary per store.
8: The Commissary Rewards Card program is one popular example of an easy way to rack up even greater savings in stores.
The rewards card allows you to clip manufacture provided digital coupons to save additional money on products you buy. Customers can pick up a rewards card at any checkout. The digital coupons clipped to the card are redeemed automatically at the register. Coupons are listed at commissaries.com.
9: End-of-aisle displays.
Military commissaries are always offering discounts beyond everyday savings, including special holiday deals through the end of the year. DeCA encourages customers to check displays at the ends of the aisles, where stores showcase products with extra-low prices.
10: Check out the latest promotions when you make your shopping list by visiting the commissary website.
Overseas stores may have substitute events for certain promotions, so you may need to check with your local store to verify what's available at your location. Command Sgt. Maj. Tomeka N. O'Neal stated, "Shopping in the commissary provides the quality our customers expect and the deeper savings they deserve, going even further to extend their holiday spending. No matter the holiday event, they're saving money and enjoying a wonderful shopping experience."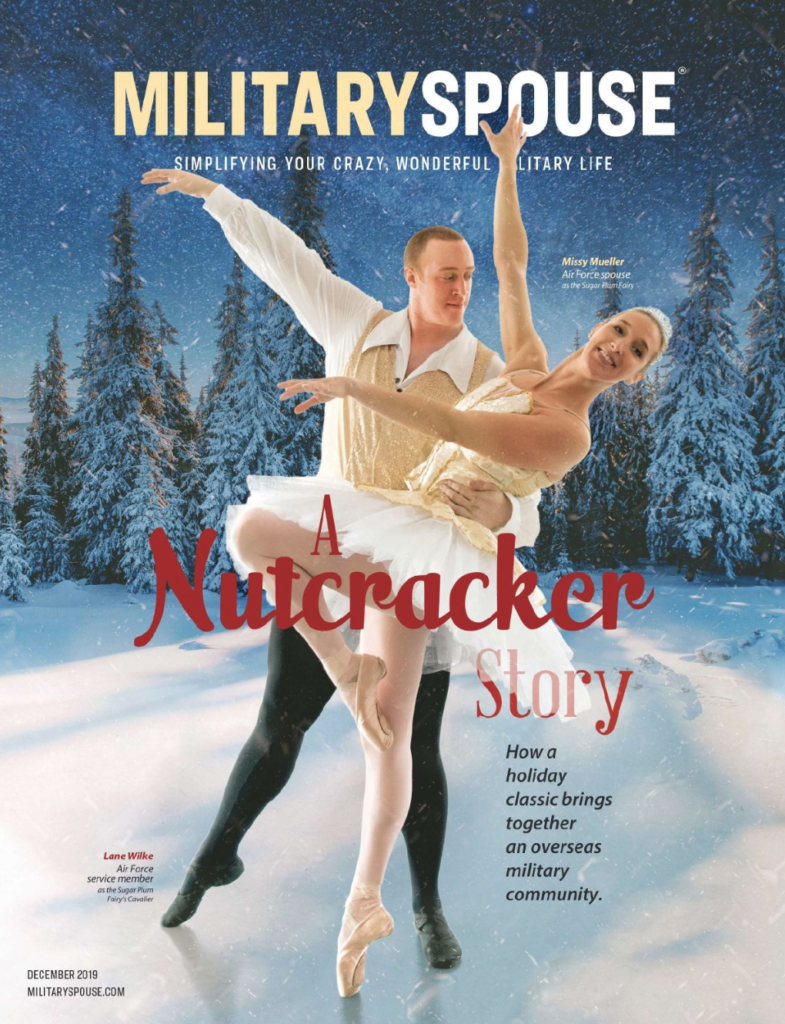 BONUS: Did you know that some commissaries offer curbside pickup? Say hello to CLICK2GO, your online shopping and curbside pickup service that you can access with your desktop, tablet or mobile phone. Current participating locations: Fort Belvoir, Va.; Fort Eustis, Va.; and Oceana NAS, Va.
See this and more inside the December issue of Military Spouse Magazine!
Now for Maria's favorite holiday recipes!
Homemade Cranberry Sauce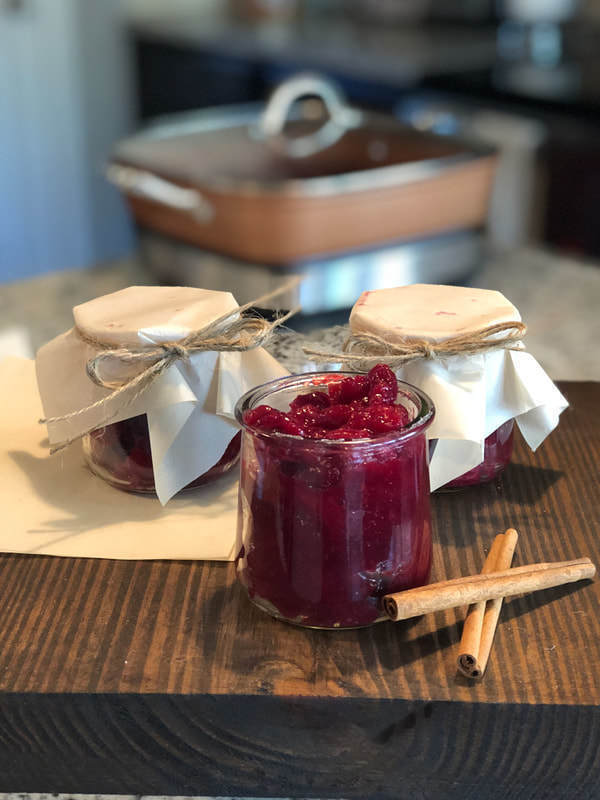 Ingredients:
1 (12-oz.) packageCranberries, fresh
Zest of 1 Orange
Pinch of Kosher salt
1 cup Sugar
1 cinnamon stick
1 cup orange juice
Directions:
In a pot, heat orange juice, sugar and salt until dissolved.
Add cranberries, Orange zest and cinnamon stick bring to a boil.
Reduce heat and let simmer for about 15 minutes, stirring often.
Make this a few days before your holiday dinner and keep refrigerated.
Savory Apple Stuffing – Woman's Home Companion Cookbook 1942 (Wartime)
Ingredients:
Salt pork, diced, ½ cup (Bacon cooked and crumbled)
Celery leaves and stalks, chopped, 1 cup
Onion, 1 cup chopped
Parsley, finely chopped
Tart Apples, diced, 3-4 cups
brown sugar, ½ cup
salt, 1 ½ teaspoon
pepper, ¼ teaspoon
Thyme, 1 ¼ teaspoon
Marjoram, ½ teaspoon
Sage, ¼ teaspoon or to taste
Stuffing dried bread 4 cups.
Note: If you are using seasoned stuffing omit the thyme and marjoram.
Directions:
Fry bacon in a large skillet until almost crisp; remove from pan, leaving drippings in the pan.
To the drippings add celery, onion and parsley, cook over low heat until soft but not browned.
Add diced apples, brown sugar, and seasonings.
Cook over low heat, stirring constantly, about 3 minutes.
Add bread crumbs and the bacon.
Stir lightly over low heat about 2 minutes.
Stuff turkey with mixture.
If you've never made homemade Cranberry Orange Butter you don't know what you are missing!
Cranberry Orange Butter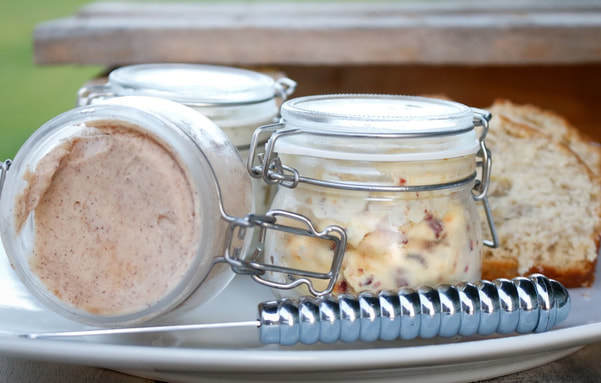 Ingredients:
1 cup butter (2 sticks) softened to room temperature
2 TBSP honey
3/4 cup dried, sweetened cranberries, chopped
zest of one orange
1/2 tsp vanilla extract
Directions:
Beat butter on high until smooth and creamy.
Add remaining ingredients and beat until mixed
Spoon into jars with lids and refrigerate up to 2 weeks.
Simple Oven Roasted Turkey
Ingredients
1 Turkey, 12 – 14 lbs. (defrosted) – Do NOT put frozen turkey in the oven.
¾ cup Butter1 tsp Poultry Seasoning
3 TBSP fresh Herbs, chopped (Sage, Thyme, Marjoram, and/or Rosemary)
1 Clove of Garlic
Salt and pepper to taste
1.5 cups Water
Directions:
Preheat the oven to 350°FSpray your roasting pan and pan-rack with non-stick spray
Remove neck and giblet bag from inside the turkey cavities
Wash the turkey inside and out, pat dry
Place turkey into the roasting pan
Combine the butter, all the herbs, salt and pepper in bowl and mix well
Make sure your hands are clean and rub the butter all over the top of the bird. Remember to do the legs and wings and inside the turkey cavity.Salt and pepper (to taste) the inside cavity of the bird.
Add water in the bottom of the roasting pan.
Place turkey in pre-heated oven
Roast the turkey for 3 – 3 ½ hours or until a thermometer inserted into the thickest part of the thigh, reads 180°F.
Remove the turkey from the oven and let it rest covered "tin foil tent" for 15-20 minutes.
Save the juices at the bottom of the roasting pan to make turkey gravy. Yum!
One-Pan Roast Root Veggies and Brussel Sprouts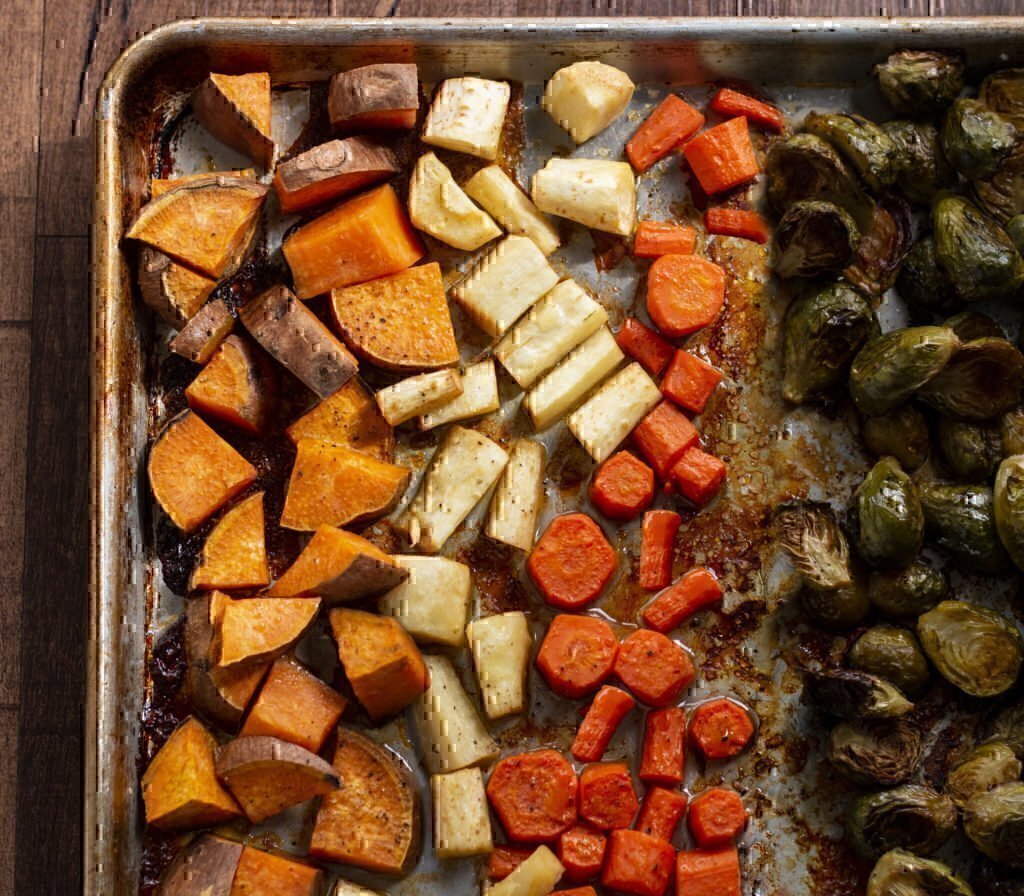 Ingredients
8 Baby potatoes
3 cloves Garlic (chopped)
1/4 cup Rosemary, fresh (chopped)
1 Large Sweet potato
1 Large Purple Potato
1 bag of fresh Brussel sprouts (cut in half)
4 Parsnips
1 1/2 tsp kosher salt
1/4 cup Olive oil
Directions:
Heat oven to 425°F.
Toss vegetables with olive oil, kosher salt, garlic and rosemary on large sheet pan.
Bake for 30 minutes, stir and return to the oven for another 15-25 minutes, or until soft.
Taste and add more salt if needed