Hallelujah. The bells have rung and the clock has run out on the 2020-2021 scholastic school year. Good job, moms and dads. You've made it. The first (or maybe more) season of the homeschooling hustle is over for you.
Before we know it, the time for planning and purchasing will be upon us again. How are we feeling about our homeschool experience this year? Was it harder in specific ways? Will there be better options for the upcoming school year? Where do we even start?
When our family started homeschooling several years ago, I knew that I wanted to be in control of our children's education and be the trusted source for them in wisdom and knowledge. What I didn't know surprised me. There are several methods for homeschooling and many different kinds of curriculum. Really, I mistakenly thought all homeschooling looked somewhat similar.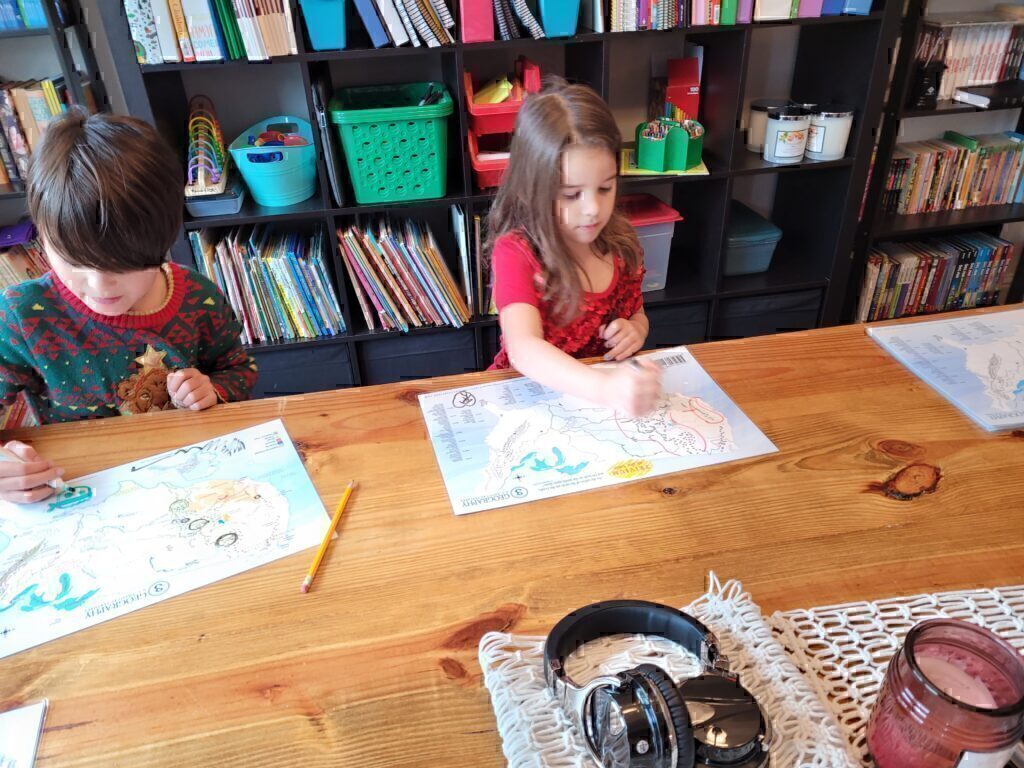 For me, I was in the market specifically for a Christian homeschooling curriculum that met the needs of our multiple age grouped family. I valued traditional education (not knowing that there were many other options), so I purchased a very expensive bundle of curriculums that were "all inclusive." They came with flashcards, picture books, and workbooks galore. I swiftly learned that my children hated busy work in the form of worksheets and every day felt like an 8-hour long cry fest.
Then, I tried to assemble a hodgepodge of curriculums, forming something like a Frankenstein education model. We went to a co-operative type of weekly gathering that focused on art, science, and social connection. This, too, was a hot mess for us. There was no accountability, nor did I feel like we were making good use of our school time by finger painting and running amok.
After some research, I found that I was looking for a more connective and purposed curriculum – along with the opportunity for real community. I'll share more about that in a moment, but I wanted to take a second to share some insight into the modes and methods of homeschooling that helped inform my decision.
Here are the main types of homeschooling methods:
Eclectic. Yup. This model is just what it sounds like. It can be a collection of different types of homeschooling curriculum, or even methods. If you have children that learn in different ways, or you have preference of how to teach, this model gives you the freedom to "DIY" it. No two eclectic models are the same. Essentially, you do "you" when it comes to education. Do you like one way of teaching math, but want to use another curriculum when it comes to reading? Everything goes in this method.
Unit Studies. Doing unit studies allows you as the parent to take a thematic approach to teaching. You can identify thematic units that can teach the various subjects you are attempting to teach your child. For example, when we did this method, we would read a book every day about a particular topic or subject. Then, every day of the week had a corresponding activity. Mondays, we made a craft that reflected what we were learning. On Tuesdays, we would go to the library to find another source about what we were learning. Wednesday, we cooked something. Thursdays, we found a way to connect the main idea to serving others. Finally, on Fridays, we had fun with the topic in mind.
Traditional Homeschooling, or Schooling at Home, versus "Unschooling." These two models are completely opposite ways of engaging in home education. The first, traditional homeschooling, is the method of doing a traditional program of education- like what is taught in a public school, from the comfort of home. Unschooling, on the other hand, is a completely non-traditional way of teaching. This method centers around the ability and interest of the student. This method is focused on letting the interest and hobbies of the learner shape the subjects that are taught and is less focused on standardized assessments or grades.
Montessori, Charlotte Mason, and Classical. The Montessori model emphasizes free movement of the student and largely unstructured blocks of time – allowing multi-aged children to choose how they will engage in the learning of key themes or subjects. Charlotte Mason, on the other hand, has short blocks of instruction and places a large emphasis on observation and memorization. The Classical model trains younger students to absorb facts and data. Middle school age students begin to build on these facts and learn to become critical thinkers. In their high school age years, Classical students can argue and defend their understandings of topics studied.
Ultimately, our family ended up falling in love with the Classical model of learning and its teaching. We are part of a Classical Conversations homeschooling community, offering us structured curriculum, a hands-on approach to teaching our children, accountability, and Christian community. Our children learn History, Mathematics, Science, Latin, and Geography. In addition, they study art, conduct science experiments, and practice public speaking. My daughter just finished her year as a Challenge A student – the equivalent of 7th grade. My sons are Foundations and Essentials students, studying in the 3rd and 5th grade level. Lastly, my youngest daughter is nearly six-years-old and is exclusively in Foundations.
We have loved our journey in classical homeschooling and we are never going back. My hope in giving a synopsis of homeschooling modes and methods is to equip you in deciding how your family will venture into homeschooling. For more information on the various methods, you can visit  https://thebestschools.org/magazine/homeschool-style-right/.
To learn more about Classical Conversations, you can visit their website at https://www.classicalconversations.com/.
Megan B. Brown is a seasoned military spouse and military missionary. She is the Military Liaison for the Speak Up Conference Global Missions Military Scholarship and the 2019-Armed Forces Insurance Robins AFB Military Spouse of the Year. She is passionate about military mission work and teaching and preaching about Jesus in and out of the local church. Her Bible study, "Summoned: Answering a Call to the Impossible," published by Moody Publishers in Chicago, will release in May 2021. She lives in south Mississippi with her husband, Keith, and their energetic kiddos. She is a Bible teacher, speaker, and freelance writer. To learn more or connect with Megan, visit www.meganbbrown.com.