When I first heard about Sara Barratt, and her daring mission to awaken a generation for the gospel, I was overcome with enthusiasm. Not only was her energy for mission contagious, but we are kindred. We share the God sized vision of a Kingdom army that is equipped to carry the redemptive story of Christ to the four corners.
As a military missionary, I labor tirelessly toward calling a specific people group- our military community- to missional living, empowering them to be bought in and sold out for the mission of Jesus. It refreshes my soul. Sara, also, is trudging through the trenches of young adulthood, leading the charge for teenagers, the iGen generation, to pursue Christ with reckless abandon.
It is beyond clear that Sara is passionate about one thing; revival. Her book, "Love Riot," which released on May 5th, is a battle cry from a teenage warrior that is fiercely chasing after Jesus to a generation of sleeping youth- calling them to lay down the notion that faith is fluff.
New on the scene, Sara began a journey in writing at the young age of 18. Now 19-years-old, she is one of Baker Publishing Group's youngest author and a voice that I believe will echo throughout for centuries to come. She has been featured at The Gospel Coalition, Girl Defined, and is the Lead Editor and writing contributor at The Rebelution.
I sat down with Sara for a virtual coffee to share in her excitement as her book released into the world. We talked about women's ministry and the reasons we write. Ultimately, we landed on the topic of The Great Commission and our deepest desire to see it done in our day.
The Great Commission can be found in the gospel account according to Matthew. It is the command Jesus himself charged all believers with carrying out.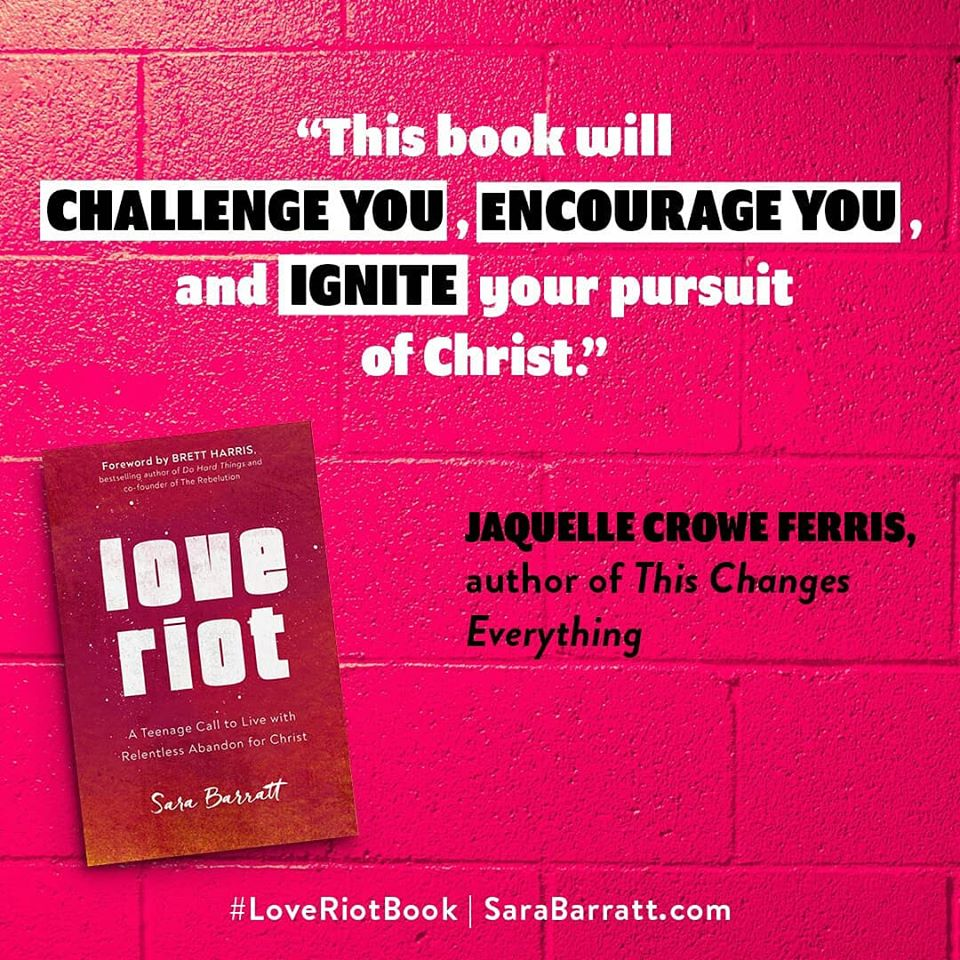 Matthew 28:16-20 says "Now the eleven disciples went to Galilee, to the mountain to which Jesus had directed them. And when they saw him they worshiped him, but some doubted. And Jesus came and said to them, "All authority in heaven and on earth has been given to me. Go therefore and make disciples of all nations, baptizing them in the name of the Father and of the Son and of the Holy Spirit, teaching them to observe all that I have commanded you. And behold, I am with you always, to the end of the age."
There is a truth that, when heard and understood by a person, compels them to share it with others- along with the radical love that comes with it. This truth is that God has created the world and everything in it, He loves the world and sent Jesus to redeem His creations, and He invites all people to love and know Him through the love of Christ. This is The Great Commission- to know the truth and to willingly carry it to others.
This message is at the core of who Sara is and the centric message of her book. She is calling all of to "reject the apathy that suggests that discipleship is someone else's job." – Sara Barratt
When I hold this book in my hands, I know it will be a welcomed herald to two types of people in my community; young military spouses and military children.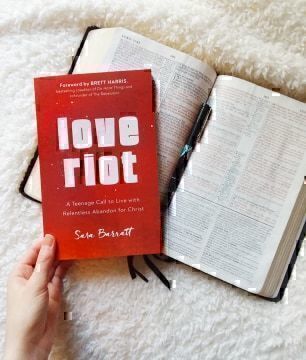 I believe that there is a revival on the horizon, a sweeping wave of people who will learn for the first time where love truly resides, and that the military community has a vital and essential role in its implementation.
The military community is perfectly positioned for this purpose. We move every two to four years, we are already missionally minded and driven, and we have the vast capacity to carry the redemptive story of Jesus to every military installation (and surrounding community) worldwide.
Young military spouses that are looking for practical ways to live on mission can find answers. Teenage military children can be encouraged to serve in an all new and unique way- by changing their minds about the nature of our lives.
This lifestyle does present challenges, like the constant moves and deployment rhythms. But when we allow the Lord to shift the paradigm, allowing Him to reframe how we see our circumstances and hardships, we can view our lives through different lenses.
I echo Sara's words and the heart cry of her book. We are meant for more and we are meant for each other. Our lives can be spent in the pursuit of Christ. And, while it may cost us some comfort or struggle, it the most noble of causes.
To read more about Sara Barratt, visit her website at www.sarabarratt.com.
Megan Brown is a seasoned military spouse and military missionary. She is the Military Liaison for the Speak Up Conference Global Missions Military Scholarship and the 2019-Armed Forces Insurance Robins AFB Military Spouse of the Year. She is passionate about military mission work and teaching and preaching about Jesus in and out of the local church. She lives in middle Georgia with her husband, Keith, and their energetic kiddos. She is a Bible teacher, speaker, and freelance writer. To learn more or connect with Megan, visit www.meganbbrown.com.