See all this and more inside the November issue of Military Spouse Magazine!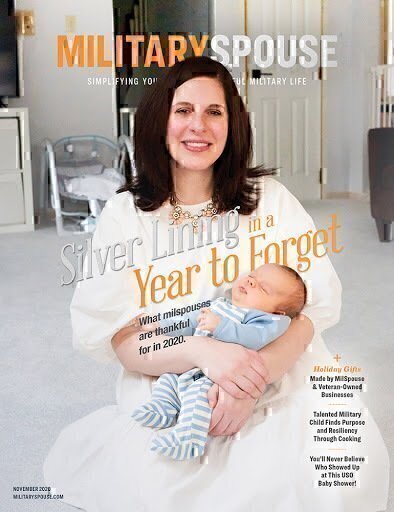 As I walked out of the first session of Hiring Our Heroes that focused on military spouses at Fort Hood, I thought, "This is amazing, but it's such an immediate fix. What about the long-term problems facing my community?" I knew something had to be done. On a hope and prayer, I messaged the CEO of Edward Jones, Penny Pennington, sharing my story and ideas with her. Honestly, I wasn't expecting a response. To my surprise, she not only wrote me back, she also connected me to a member of her team, Jesse Hill. For nearly a year, we have worked together strategizing and creating a retirement bill that would start opening doors for military spouses around the world to begin thinking and planning for their golden years.
"Military spouses are the unsung heroes of our country's national defense. They often put their professional lives on hold, threatening their long-term retirement security."

U.S. Sen. Susan Collins (R-ME), Co-sponsored the Military Spouses Retirement Security Act with Sen. Maggie Hassan (D-NH)
As a seasoned military spouse preparing for the retirement of my service member, it has forced me to consider my own retirement, or the lack thereof. I have worked or owned a business at every duty station, and compared to my civilian counterparts who have worked the same number of years, I have nothing to show for it. They have had the opportunities to invest in their golden years and have contributions from the companies they work for. I and many other military spouses have never had that opportunity. But we want that to change.
This bipartisan bill will encourage small employers to provide spouses of service members with a retirement plan, which will help military families save for secure golden years. Under provisions outlined in the bill, Military Spouses Retirement Security Act (S. 4173, H. R. 7927), small businesses—those with 100 or fewer employees—would be eligible for a tax credit of up to $500 a year for up to three years for every military spouse employee if they make the military spouse eligible to participate in a retirement plan within two months of hire. Upon plan eligibility, the military spouse must be eligible for any matching or non-elective contribution available to a similarly situated employee with at least two years of service, and must be 100% immediately vested in all employer-provided benefits.
"I know firsthand how this legislation can help not only the ecosystem of our nation's military families but also the emotional and financial stability this offers to the military spouses…gives us hope that our country is going in the right direction towards implementing change to ensure further that we are taken care of."

Monika Jefferson, CEO and Co-Founder Association of Military Spouse Entrepreneurs (AMSE)
This bill is drumming up support on both sides of the aisle, within the military spouse community and with associations that support our military. The Association of the U.S. Army (AUSA) is supporting legislation that would help spouses of active-duty troops save for retirement. Leaders at the Navy League of the United States leaders have announced their support of the Military Spouses Retirement Security Act.
"This legislation would address a unique struggle of military spouses, who often move every three years just before they are able to vest in employee retirement plans. This bill will aid retention by strengthening the financial position of military families, thus strengthening the sea services as a whole."

Mike Stevens, Executive Director Navy League of the United States 13th Master Chief Petty Officer of the Navy (Retired)
I am proud to have so many that have come behind this bill. It is a bill from a military spouse for military spouses. I personally will never reap the benefits of this bill, yet it still remains close to my heart because I know it will help so many in my community for generations to come. I also realize this is a bill that can be built upon, continuing the pursuit of improving the issue military spouses and military families face as a whole. To learn more about the bill, visit congress.gov and look up S. 4173 or H. R. 7927. If you would like to support this bill you can contact your local congressman/woman.