By Sally Anne Groomes, Navy Spouse
Family traditions have always knitted the fabric of my dearest memories. Over the past decade, my nomadic life as a military spouse has made these moments even more cherished.
When my friend, Erika Matthews, invited my family to her "Annual Pie Breakfast" on Thanksgiving 2013, we were intrigued — they ate pie for breakfast? We walked into the Matthews' home that morning to find ten different freshly-baked pies ready for tasting, hot coffee, and good conversation with relatives and neighbors. I left that day inspired to adopt this tradition for my own family and community. While I continue to feel deeply privileged to be part of a military family, at times this lifestyle can feel rootless. Here's how I made our annual Pie Breakfast a part of the solution:
1: Invite Everyone
Inclusivity is the foundation of Pie Breakfast. Cast a wide net when sending out invites and always encourage people to bring visiting family or friends. Without the confines of formal table seating, Pie Breakfast allows us to bring together different circles of people to mingle over the shared joy of pie.
2: Keep it Casual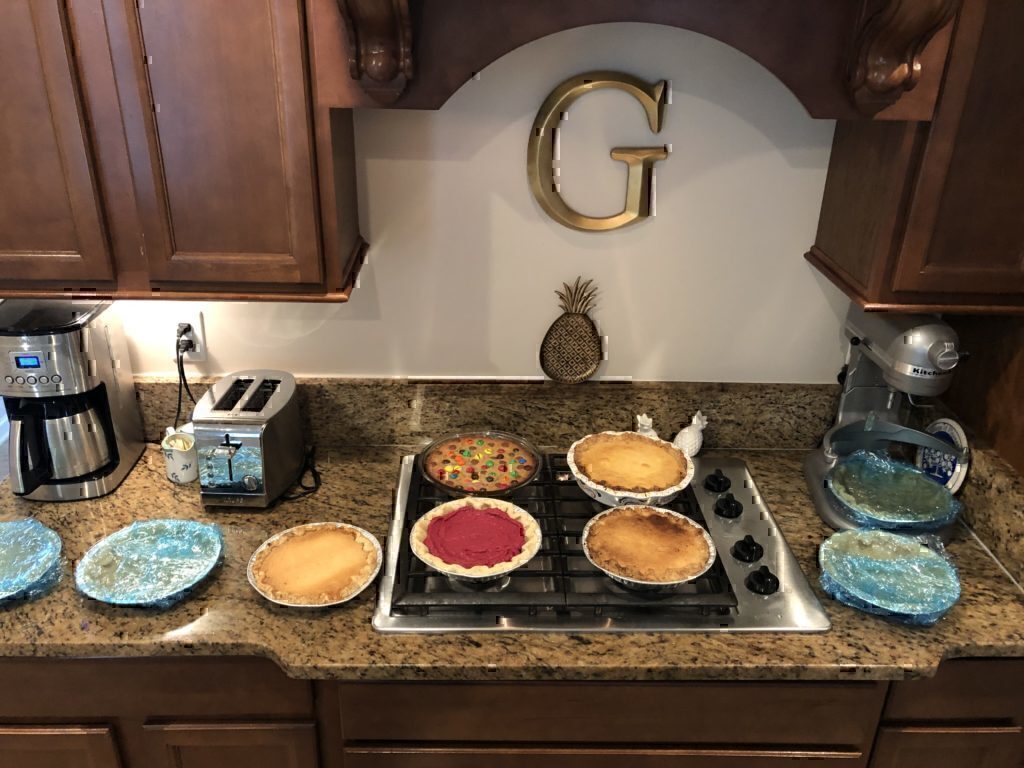 Pie Breakfast is about the pie and the people, not place settings. Since our average attendance hovers around 60 guests, paper plates and plastic cutlery reign supreme. We advertise Pie Breakfast as a "come-and-go open house," between 8 a.m. and noon. Having a fluid time window takes the pressure off attendees. Families with young kids usually arrive early, while others prefer a pie brunch. Freshly-brewed coffee is always provided, and while we encourage guests not to bring anything, I suggest beverage offerings for friends who refuse to show up empty-handed.
3: Planning is Everything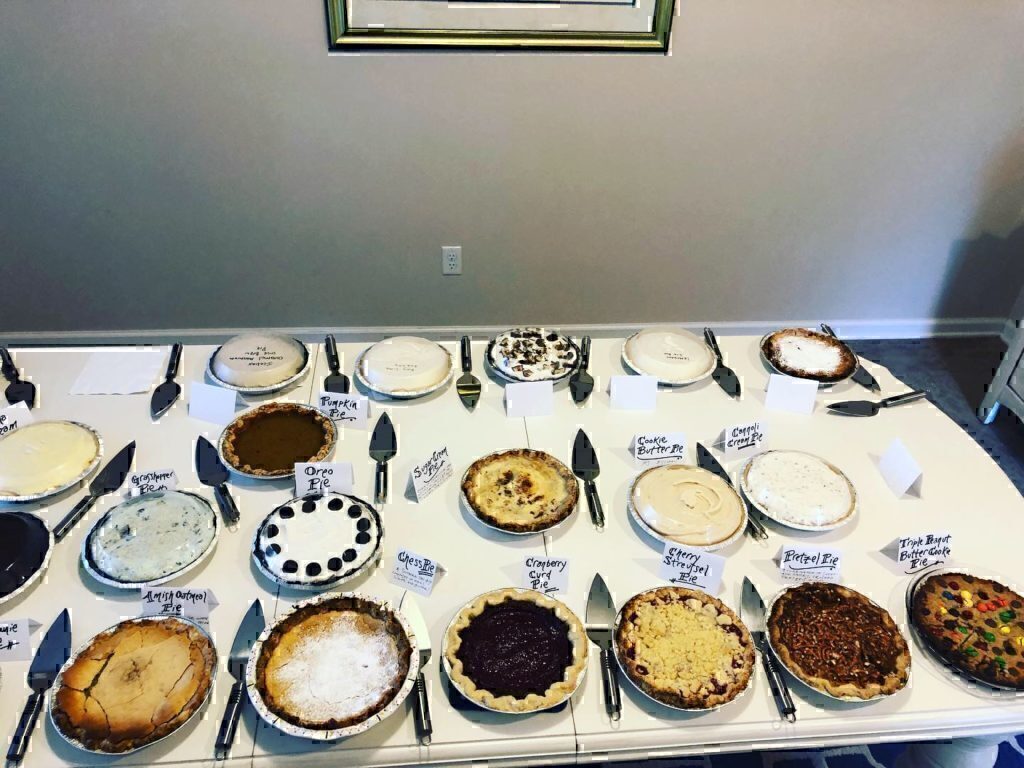 Since it is not an actual holiday, the beauty of Pie Breakfast is that it can occur any day of the year. Thanksgiving morning proved too difficult due to logistics. After trying a few other dates, we now celebrate on New Year's Eve morning. People are off work and school, resolutions haven't yet started, and parties don't begin until nightfall.
Pie Breakfast preparations are my Olympics. I choose to make all the pies myself, as I truly delight in the challenge. Last year's official tally ranked the highest at 34 total pies. However, one could easily make Pie Breakfast a potluck affair or delegate some of the work by buying bakery or frozen pies. Creating a schedule has allowed me to make it to game day with my sanity (and kitchen) intact. A month before the selected date I gather recipes that have been accumulating all year or have been favorably received in the past. I create the pie itinerary with recipes designated into four categories: baked, icebox, cream, and savory/quiche.
Three weeks out, I gather all dry ingredients and pie plates. Pastry crusts are homemade and frozen two weeks in advance; graham or cookie crusts are purchased. A week before the event, I mix and measure the dry ingredients of each pie and package them individually along with detailed instructions for wet ingredient additions and baking. I also prepare the icebox pies and ask my neighbors for extra pie storage freezer space.
The day before, I draw-up a detailed oven schedule for the baked pies. This is also when I make all cream fillings; however, each is stored separately and not combined into the crust until the morning of the event to reduce sogginess. The quiches are baked that same day but all prep for them is done the night before. Streamlining the process allows me to truly enjoy the preparatory stages while reducing last-minute stress.
4: Competition is Key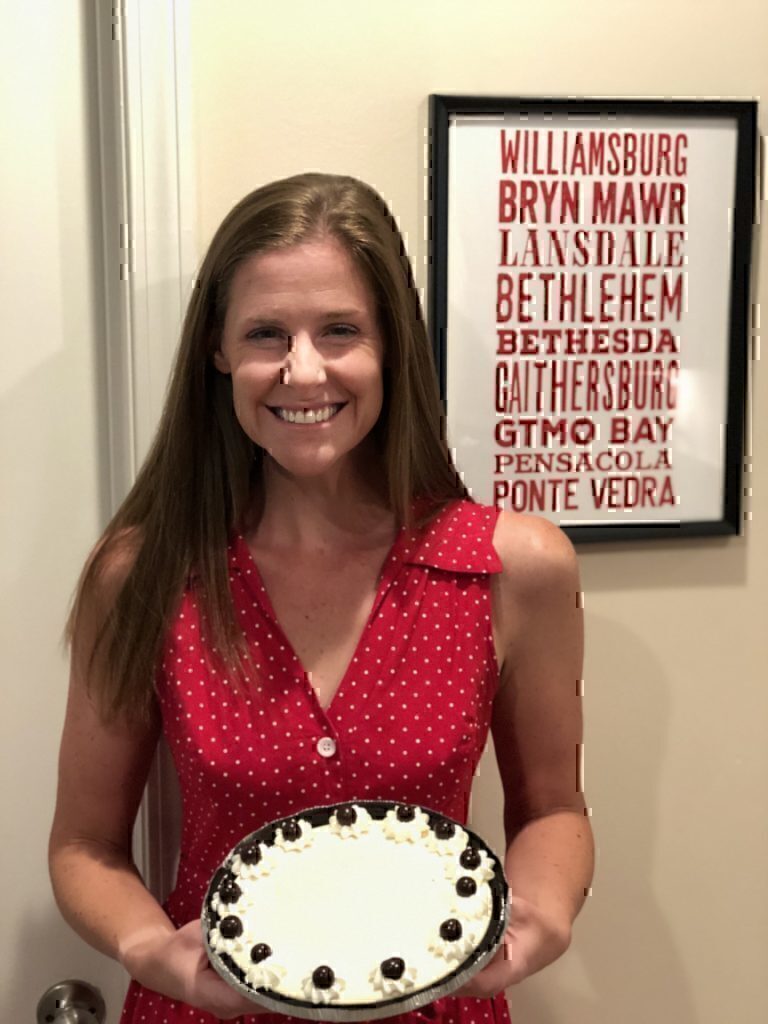 The only rule stipulated to attend Pie Breakfast is that each attendee must cast a ballot for his or her favorite pie before leaving. Any pie that doesn't receive at least one vote is banished from returning the following year. Kids and adults often congregate around the voting station, weighing their top selections with some writing detailed commentary. We tally votes that evening and announce the top three finishers.
Pie Breakfast has become our favorite family tradition. Much like our life in the military, the people may change from year-to-year, but the shared joy and love continues to grow.
2019 Pie Breakfast Champion:
Caramel Macchiato Icebox Pie
1 unbaked chocolate cookie pie crust
1 (3 ounce) box of vanilla pudding
¾ cup caramel macchiato chilled espresso beverage
½ cup cream
8 ounces thawed whipped topping or whipped cream
Chocolate-covered espresso beans for garnish
Whisk pudding, coffee, and cream.
Fold in whipped topping.
Pour into prepared pie crust and freeze overnight; garnish with espresso beans.