See inside the December issue of Military Spouse Magazine!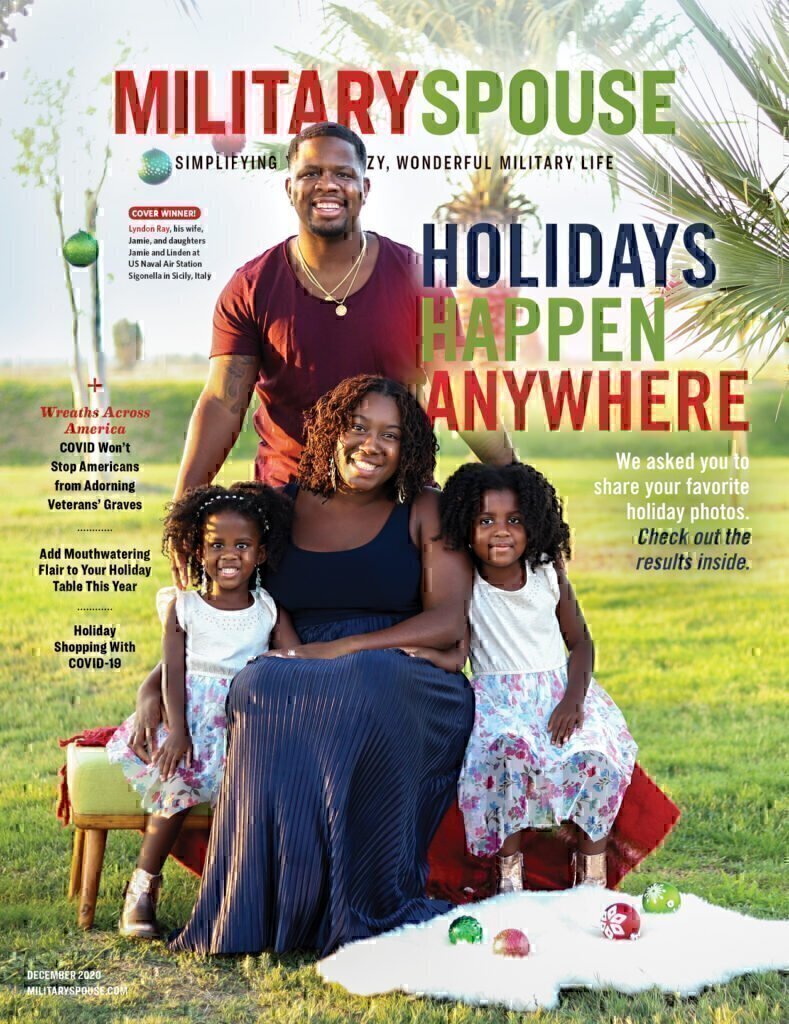 When I think about the holiday season, vivid memories of my grandmother in her kitchen come to mind. During this particular season, beginning shortly after Halloween, she would regularly play her favorite Christmas songs on her old-timey radio. Bopping around her kitchen with joy, she baked confections that, just remembering them, makes my mouth water now. The counters would be completely covered in lightly floured surfaces, the smell of butter hung in the air, and the anticipation was thick as we grandkids waited for the oven timer to sound the alert that cookie time was upon us. She would bake for hours and hours—a tradition that I have tried to keep up over the years.
During this same time, my mother would be just as busy in her kitchen baking up some of her favorite recipes. Her chocolate chip cookies are famous in northwest Louisiana and some parts of Texas. All year round, my mom graced us with the best homemade sugary snacks. She too, would be standing in the kitchen (sometimes all night) to send and share her gifts with family and friends. While my mom could whip up some of the fanciest and longstanding classic cookies and confections, some of her simplest recipes are still the first ones that I plan to make and share during the holidays.
You see, my mom was a military spouse too. She understood the wonderful art of doing what you can, when you can. She often gave herself permission to do what was easy—instead of enduring the burnout that comes with making herself crazy with high and unreachable expectations. This is the beautiful thing: She gave me permission to do what is easy too.
When I became a military spouse, my mother gave me some sage advice. "Do what you can do. Let go of the rest." I wasn't sure what she meant until many years later when I was faced with braving the holiday season alone. My spouse was deployed and I was planning my annual cookie-bake-o-rama, just like my mom and her mother before her. But I was tired. I didn't have the energy to spend six hours baking. And, to add insult to injury, I was not in the mood to "make memories" with the kids. I just wanted to cry.
My mom, like many times before, came to the rescue with her wisdom and warm words. She encouraged me to ditch the "all-nighter" and the pressure to "do it all." She gave me a few recipes that I could whip up in no time that would still do the trick. One of the recipes was so easy and delicious that it is still a family favorite. "Cuppa Cookies" only require two ingredients—a roll of store-bought chocolate chip cookie dough and a bag of miniature Reese's peanut butter cups (plus, enough energy to tap your index finger).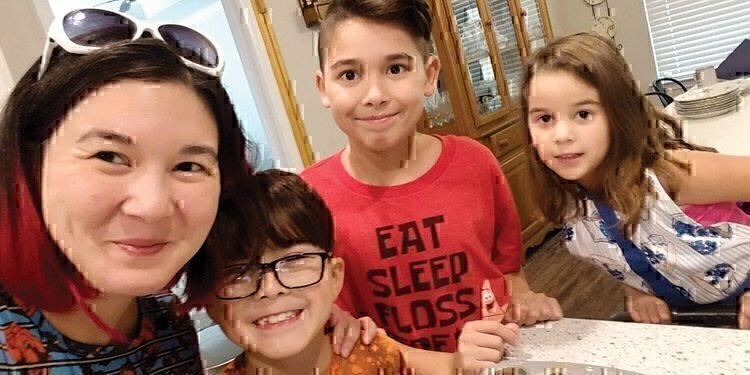 To quote one of my favorite milspo friends, "Homemade and home-baked goods might not be twins, but they are certainly sisters."– AJ Smit
The recipe is simple. Cut the store-bought (or homemade if you have the time and energy) cookie dough into regular-sized slices, as if you were going to bake them normally. Then, cut each slice into quarters. This works best when the dough is cold. Beforehand, unwrap all of your Reese's peanut butter cups—set some aside to snack on while you bake. Spray a mini muffin pan with baking spray and place one piece of the quartered cookie dough in each opening. Then, tap with your index finger gently to cover the bottom. Finally, place a Reese's cup in the center, on top of the cookie dough. Bake at 350 degrees for 12 minutes.
Voila. Not only are "Cuppa Cookies" easy and convenient to make, but they are a showstoppers at parties, they plate beautifully, and taste absolutely delicious. During this holiday season, give yourself permission to do what is easy and save your sanity. Life is stressful enough. Take some time during the holidays to simply be present and enjoy the little things. Grab a "Cuppa Cookie" and have a sweet season.
When I became a military spouse, my mother gave me some sage advice. "Do what you can do. Let go of the rest."