See this and more inside the December issue of Military Spouse Magazine!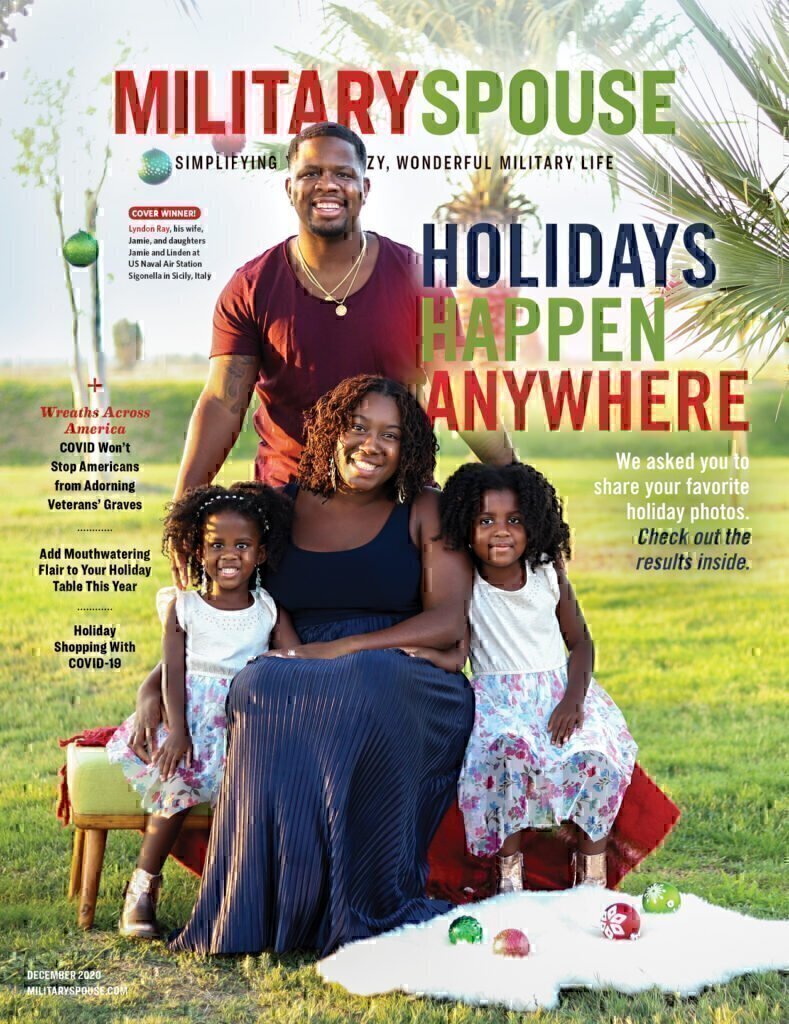 A wreath is a holiday decoration that brings a festive quality to front doors, fireplace mantels, and windows around the country. For many military families, however, a wreath can symbolize much more. It represents the celebration of the life of fallen military personnel, a living memorial to veterans and their families, and a catalyst that can be used to bring people together.
Last year, over 2 million veteran wreaths were placed by an equal number of volunteers—including a third who were children—at over 2,200 locations in all 50 states and overseas. At Arlington National Cemetery, 38,000 of those volunteers ensured that wreath-laying ceremonies were carried out on the graves of those service members who honorably served our country during times of war and peace. It is hoped that this year on Dec. 19, a similar volunteer effort can occur with social distancing precautions in place.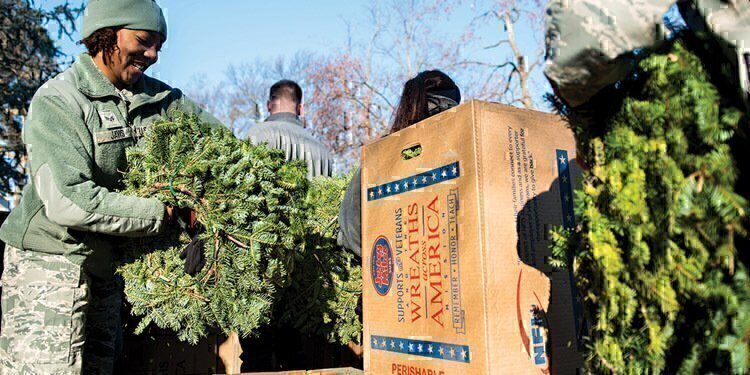 This simple but powerful remembrance is made possible through Wreaths Across America, a national nonprofit organization founded in 2007 by Maine businessman Morrill Worcester. The impetus for the wreath-laying ceremony started when Worcester was a 12-year-old paper boy for the Bangor Daily News and won a trip to Washington, D.C., and Arlington National Cemetery. Walking the hallowed grounds and standing by the grave sites made a big impact on Worcester that carried with him into adulthood. The owner of a wreath business, Worcester had a surplus of wreaths during the 1992 holiday season. Remembering his trip from his boyhood, he reached out and received permission to place the wreaths on 5,000 headstones at Arlington as a way to honor our country's veterans.
A picture is worth a thousand words
For over a decade, the wreath-laying tribute quietly continued each year. But the lives of Worcester and his family would change forever when, in 2005, a military photographer took a photo of the recently placed wreaths, adorned with red ribbons and surrounded by snow on the Arlington grounds. The picture went viral, touching the hearts of Americans. The Worcester family received interest from thousands of people looking to create similar memorials at cemeteries around the country, to say thanks and share their intimate stories.
To help support these requests, Worcester began donating seven different types of wreaths to all 50 states, representing each branch of the military. To continue the tradition and expand its reaches due to the national interest, the nonprofit Wreaths Across America was formed with a simple mission:
REMEMBER – Our fallen U.S. veterans
HONOR – Those who serve
TEACH – Your children the value of freedom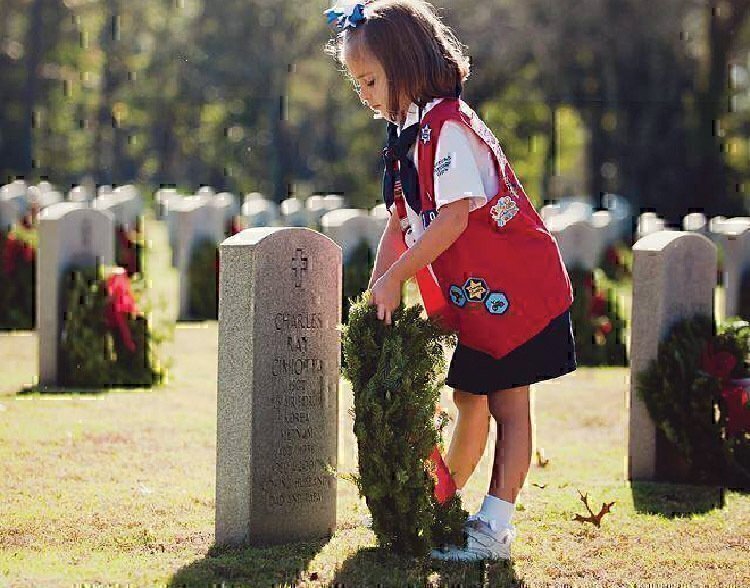 Karen Worcester, executive director of Wreaths Across America and Morrill's wife, noted that the wreath laying "provides an opportunity to teach kids not about conflict but about the character of the great men and women that ran into harm's way for the goodness of the country. It provides a connection to Gold Star families as wreath layers say the veteran's name and the place where they came from. At the busiest time of year, it is a way to say thank you."
Karen Worcester shared a special moment during one of her trips to Arlington. A Gold Star mom asked her to help place a wreath on her son's grave. They got down on their knees together and when they got up, the mom put her hands on Karen's shoulders and said, "Don't remember that my son died, but remember that he lived."
How to get involved
1. Sponsor a Wreath and honor a local veteran
2. Add a New Location by coordinating a wreath-laying ceremony in your town
3. Start a Sponsorship Group for a civic, nonprofit, school or other group
4. Volunteer to place wreaths on a veteran's grave at over 2,200 locations
There is no cost to attend or participate in Wreaths Across America events. The group provides sponsorship opportunities to help other nonprofit organizations like the American Legion, Veterans of Foreign Wars and 4-H Clubs. Wreaths Across America returns $5 of each $15 wreath sponsorship raised to support local organizations. (wreathsacrossamerica.org)
• 1992: First wreaths (5,000) donated by Morrill Worcester and Worcester Wreath Co.
• 2005: Iconic photo of wreaths in snow became a viral sensation
• 2007: Wreaths Across America formed as a 501(c)(3) nonprofit organization
• 2012: Millionth wreath placed at Arlington National Cemetery
• 2016: 25th year that veterans' wreaths were placed at Arlington National Cemetery
• 2018: Mission advances overseas with the first placement of 9,387 veterans' wreaths at Normandy-American Cemetery in France