Lisa Gevelber, VP Google for Startups
Photo: Aspiring entrepreneurs like Katherine Kostreva—military spouse and founder of OnPoint—at the Bunker Labs 2019 National Summit in Seattle, WA.
As part of our continued commitment to support the military community, we're partnering with Patriot Boot Camp, Bunker Labs and Veteran Capital to empower transitioning service members, veterans and military spouses to pursue their entrepreneurial dreams.
Of the 250,000 service members who will transition out of the military this year, 1 in 4 want to start their own business—in addition to the 2.5 million businesses already led by veterans in the U.S. And despite frequent relocations, nearly a quarter of military spouses surveyed by Blue Star Families have owned their own business.
Life in the military means learning to solve problems with limited resources, adapt to changing conditions and lead under pressure—and these are all qualities that also apply to startup life.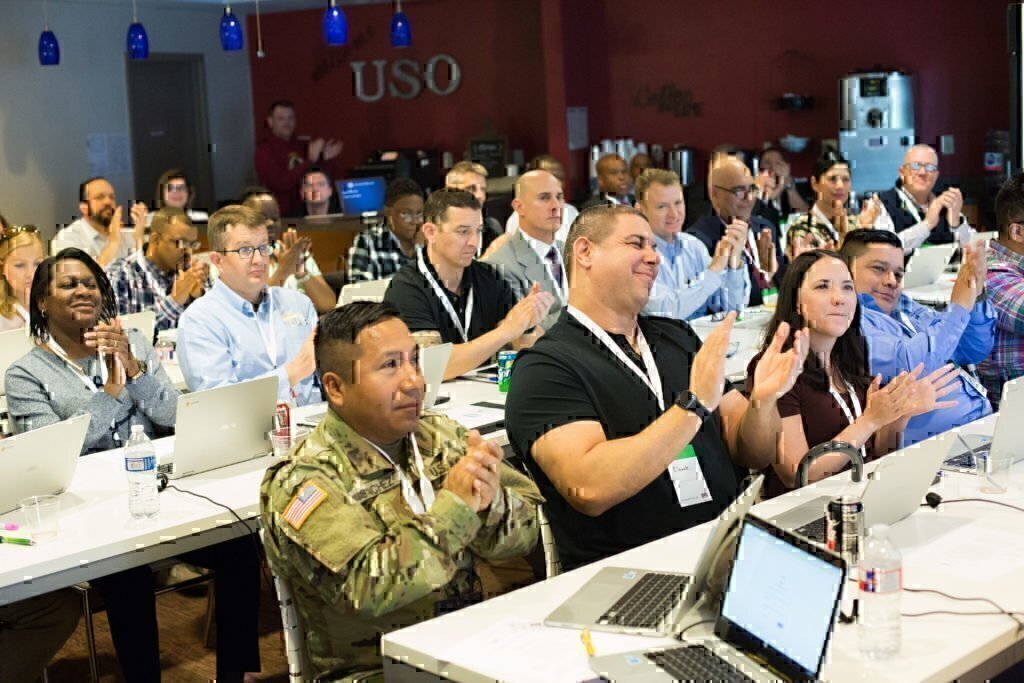 Bunker Labs expands to more cities
Bunker Labs was founded by veterans who, upon starting their own companies, saw ways they could create a clearer path to entrepreneurship for others in the military community. Today, Bunker Labs has 25 chapters around the country and runs business incubator programs in 15 cities, providing mentorship, education and community to more than 400 startups led by military spouses and veterans. Our partnership will expand Bunker Labs programming in two new cities—Atlanta, Georgia and Raleigh, North Carolina—and Google advisors offering one-on-one mentorship will also help startups in the program get the support and know-how to succeed.
A focus on mentorship with Patriot Boot Camp
Building off the success of a three-day Patriot Boot Camp program supported by the Google Veterans Network in Austin, TX this year, our new partnership will pair startups founded by veterans and military spouses in the Patriot Mentor Program with advisors from Google to provide product expertise. We're especially excited to support Patriot Boot Camp as they inspire and equip additional military spouse and veteran founders to succeed. People like Patriot Boot Camp alumni Erica McMannes and Liza Rodewald, military spouses with 17 moves between them, often struggle to find effective remote work opportunities that could keep up with their military lifestyles. Their experience inspired them to create Instant Teams, a startup that helps companies hire and manage a remote workforce of professionals from the military community. These entrepreneurs are showing amazing early traction—Erica and Liza just successfully raised a round of Series A funding.
Bringing opportunities to the military community with Veteran Capital
Our partnership with Veteran Capital places veterans and military spouses in three-month fellowships at high-growth tech startups. We will also activate local Googlers to lead workshops that help military community members build effective resumes and learn sales skills and design best practices. People like James Maffey honed the ability to quickly identify and solve problems while in the U.S. Army, and applied that during a Veteran Capital Fellowship with First, an AI-driven real estate startup. "I learned how to thrive in environments of ambiguity during my time in the military, which translated well to the unpredictability and frequent pivoting of the startup world," he says.
Our ongoing commitment to the military community
From helping vets find jobs and improving ways to work remotely to highlighting veteran-led business on Google Search and Maps, we're honored to help transitioning service members, veterans, and military spouses grow their careers and businesses. Learn more about how Google for Startups supports the military community by joining us on Facebook, Twitter, and Instagram. And check out Google's additional resources for veterans and military families.
About Google for Startups
Google for Startups is Google's initiative to help startups thrive across every corner of the world by bringing the best of Google's products, connections, and best practices to enable startups to build something better