Sponsored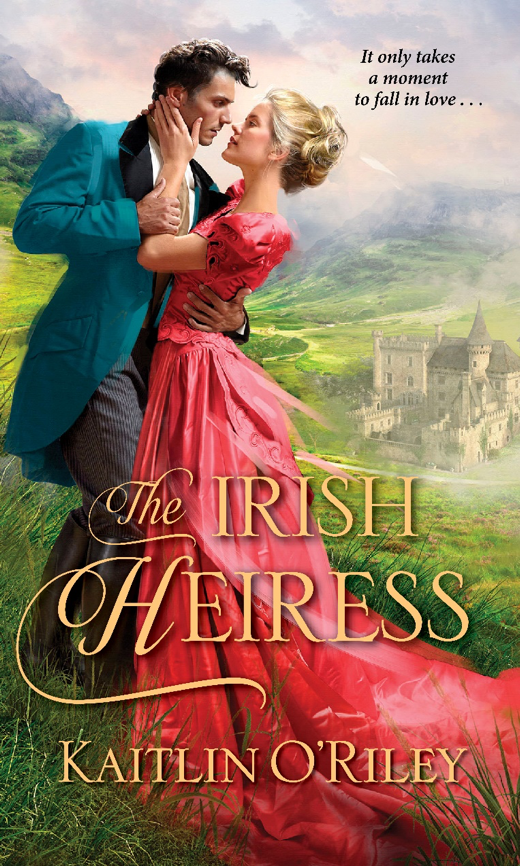 The Hamilton sisters have found true love to rival any novels sold in their famous London bookshops. And the story continues, as each of their offspring discovers the perfect partner . . .
Quiet and intuitive, Lady Mara Reeves has always felt more at home amid the green hills of her native Ireland than in London's stifling ballrooms. Determined to remain single, she's adept at gently rebuffing any suitor who comes her way. So why is she so drawn to Foster Sheridan, Earl of Sterling? It's a connection unlike anything she's ever known, yet complicated by one scandalous fact: the man she believes to be her destiny is already married . . .
Trapped in a loveless union with a woman who refuses to divorce him, Foster is resigned to loneliness until he meets the exquisite Mara. Her wants her as a wife, not a mistress, but he can't resist her unconventional offer. Their passion is intense, as is the risk. For even as Foster follows Mara home to Ireland, their pasts will lead them toward danger that only the deepest love can overcome . . .
*************************************************************************************
An excerpt from The Irish Heiress by Katlin O'Riley
After the door to the drawing room closed, Mara was alone in blessed quiet and solitude. For a time anyway. Phillip was a sweetheart to worry over her so, but she simply needed to be alone. With a sigh, relief flooded her but she felt uncomfortably warm. Slowly she removed the long white gloves that covered her arms up to her elbows. She detested wearing gloves! They were too constricting. She lay back against the soft cushions on the divan, closed her eyes, and took a deep breath.
In truth she was more exhilarated than anything else by what had just happened to her. And a tiny bit frightened too.
That premonition! That man! It was indescribable.
But there was great sadness too, in that vision she'd had. There was gripping fear and blazing flames.
Fire.
Mara knew firsthand the deadly ravages of fire. Fire plagued her life and terrified her like nothing else. It was a fire that had killed her mother one night when Mara was just a little girl, and Mara had been unable to save her.
But what did it all mean? The fire particularly worried her. Was she in some kind of danger? Her premonition evoked two distinctly different feelings, deathly fear and utter peace and love. And there was something else too . . . Something she couldn't quite name.
The sudden click of the drawing room door caught her attention. Was Phillip back already? That was ridiculously fast! Disappointed by his quick return, she reluctantly opened her eyes.
And saw him.
Lord Sterling stood at the foot of the divan, gazing at her in wonder.
A long, silent moment passed between them.
Good heavens, but he was the most gorgeous man she had ever seen. Tall and well built, with an air of quiet strength around him. Dark brown hair, the color of rich chocolate, was slicked back from his classically handsome face. A streamlined nose, straight white teeth, and those eyes! Those eyes!
Finally he uttered, "I beg your pardon, Lady Mara . . . I didn't mean to intrude . . . It's just that I-I—" His deep voice faltered for an instant and he shrugged, as if completely baffled by his own actions. "I must confess. I just had to see you again."
She could barely breathe. He had to see her. He'd had to see her!
"I'm glad you came to see me." Yes, her own words. She could actually speak in front of him!
He smiled at her then, and her heart seemed to melt inside her chest. She found herself grinning back, helplessly.
"There was something just then in the corridor between us . . . There is something about you . . . I don't know." He seemed almost startled by his own thoughts, his handsome face a mask of bemused confusion.
Once again, they stared at each other silently for a few moments.
"May I?" He gestured to the divan.
Instinctively Mara sat up slightly and scooted her stylishly slippered feet over, adjusting the skirt of her champagne pink silk gown to make room for him to sit at the foot of the divan. Yet he sat even closer to her than she'd expected. It was a highly improper act, decidedly scandalous, in fact, for a gentleman she barely knew to act so familiarly with her. If anyone entered the drawing room and found them this way together, her reputation would be quite ruined.
But for once in her life, Mara didn't care. And neither did Lord Sterling, apparently. The risk seemed trivial. Things like etiquette and proper deportment did not matter at a time like this.
And what time was that, exactly?
Mara was sure she didn't know. Yet it felt momentous. Special. Magical. Thrilled by his unexpected appearance and the prospect of speaking with him privately, she could barely contain herself.
Had he felt what she had when they met?
Judging from his expression and his presence beside her on the divan, he must have felt the same magnetic pull to her as she had with him. If she felt it, good heavens, how could he have not?
"Who are you?" he murmured, more to himself than to her.
"I'm myself." She felt a bit foolish answering that way, but what else was she to say? He wasn't simply asking to know her name. And she couldn't tell him the actual truth. That she was the woman who would change his life.
He nodded, yet seemed unclear. With a gesture to the divan and her appearance of malaise, he asked, "Are you unwell?"
"No, no, I'm quite all right." She waved her hand airily. "I just had a bit of a dizzy spell. My cousin is very overprotective of me and insisted that I rest. It's nothing though. I am fine. I probably didn't eat enough today." It was so odd, her sudden rush of words. Mara did not feel as shy or self-conscious with Lord Sterling as she did with other gentlemen. They usually made her feel nervous and silly and as if everything she said was foolish.
Men were typically drawn in by her attractive appearance and then, after a moment or two, they seemed bored or completely uninterested in her and drifted away. She supposed it was all her fault. She was not a natural coquette or a social butterfly, like her cousin Sara Fleming, who had gentlemen constantly vying for her attention. Lady Mara Reeves had never been mistaken for the belle of the ball.
"You have the trace of an accent," he noted, eyeing her closely. "Is it Irish?"
"Yes, I was raised in Ireland. My father is the Earl of Cashelmore. Our home is there, but we spend a good part of the year here in London."
"I've never been to Ireland."
"Oh, it's beautiful." She smiled at him. "You shall just have to come visit me there." Goodness! Had she just flirted with him? Invited him to stay at her home? What on earth had come over her?
His eyes lit up. "I cannot imagine anything more wonderful than going somewhere with you, Lady Mara Reeves."
"Then let's go somewhere together." The words flew far too easily from her lips. Somewhat aghast at her brazenness, she almost put her hand over her mouth. This was not her usual self talking!
"I would like nothing more than to take you away somewhere." He shook his head reluctantly. "I feel as if I've suddenly been bewitched. By you. And such a beautiful witch you are." Lord Sterling reached over, and as if it were the most natural occurrence in the world, he picked up her hand and held it in his.
Mara caught her breath in suspense. His hand was warm and it fit hers perfectly. The touch of his skin sent shivers of delight washing over her. There was such a sense of belonging. Belonging to him. Belonging together.
"You are the most exquisitely beautiful woman I have ever seen." He brought her hand to his lips and placed the softest of kisses upon the top of her fingers.
All the manners she had been trained to employ, all the deportment lessons that had been drilled into her, and all the endless hours of instructions and rules about proper behavior with gentlemen that had been given to her over the years, completely evaporated into meaningless fluff. Which only reinforced her belief that something extraordinary was happening to her. Happening with this man. To them both. All the conventional rules of courtship would not apply to them. Of that she was quite certain. This, whatever this was between them, would be vastly different from anything she had been prepared to expect.
Thrilled by his words, his touch, and his sweet kiss, happiness surged through her entire being. He thought she was beautiful! Little Mara with her colorless hair and too wide eyes who always felt invisible in a room full of people . . . Yet to him, to him, she was beautiful. Her heart fluttered and soared.
Lord Sterling gently lowered her hand to rest with his on his lap, their fingers intertwined. For as unusual as it was, it seemed to be the most natural thing for him to do.
"I don't know what it is about you, Mara . . ." Even the intimate use of her first name should have shocked her. But it did not. It only drew them closer together. "You felt it too then?"
"I'm not altogether sure." He shook his head slightly, looking baffled. "I've never felt quite like this."
Neither had she, and it thrilled her to know that no one else had ever made him feel this way. "I saw you once before," she confessed.
"You did?" His face lit with pleasure. "Whenever it was, I know I did not see you. I certainly would have remembered you."
Elated that her confession pleased him, she continued. "Yes, I saw you, but you didn't see me. It was a few months ago, at Lady Cabot's ball."
His brows furrowed slightly. "I can barely recall that evening."
"Well, I recall it quite well and I definitely saw you there. I'm so pleased to see you here tonight at my uncle's party."
"The Duke of Rathmore is your uncle?" he asked, a note of surprise in his voice.
With a nod, she added, "And I'm very happy you came in here to see me."
"I am too." A brief sigh escaped him. "Although I should not be here with you like this, Mara." Yet he did not let go of her hand.
"I don't mind," she said softly. "I'm not worried or scandalized or frightened by you, if that's what you are thinking."
A shadow darkened his expression. "Yes, your reputation is one thing. But I should not be here, taking such liberties with you, saying these things to you, my beautiful little Mara."
At his words, she knew she was his. His Mara. She belonged completely to him. There was not a doubt in her mind. They were linked together, bound together by something outside of themselves. Fated. And they had finally found each other. Brimming with a blissful sense of purpose and rightness that belied anything she had ever known or been taught, she beamed at him. Her heart, her destiny lay with this man. She knew it.
And he knew it too.
Her world careened around her, while rushing feelings of love and desire wreaked havoc with her usually reserved self. How could she feel this way, so strongly, so suddenly, and so perfectly? The need to kiss him was overwhelming.
Mara had never kissed anyone before. Ever. On pure instinct she slowly leaned forward to kiss him. She closed her eyes, hoping he would take the hint and kiss her too . . .
"No."
The harshness of the word shattered the intimate moment between them. No? Her eyes flew open in surprise. She stared at the lips that she had been wantonly leaning toward. Had they just uttered the word no? No to a kiss? Surely he'd known that she wanted to kiss him. What had she done wrong? Did he think her too brazen?
Before she could utter a word in response, Lord Sterling abruptly stood up and stepped away from the damask divan, where she still lay. "You are much too beautiful and deserve someone far better than I. I should not have come in here, Lady Mara. Please forgive me. Really, I must leave now."
Startled by the abrupt change in mood, Mara was about to protest, but the stricken look on his face stopped her cold. What had happened? What had changed? Everything had been wonderful, even magical.
And then it wasn't.
Hot tears pricked behind her eyes. She blinked rapidly to keep them from spilling down her face.
"Good night, Lady Mara."
And just as suddenly as he appeared in her life that evening, Lord Sterling was gone.
*************************************************************************************
Want to read more of The Irish Heiress? Click here!
About Kaitlin O'Riley
Author of the Hamilton Sisters series, Kaitlin O'Riley fell in love with reading historical romance novels when she was just fourteen years old while growing up as one of five sisters in New Jersey. Now the acclaimed author of over eight historical romance novels, which have been translated into various languages all over the world, Kaitlin lives in Southern California with her family, where she is busy writing her next book. Please visit her website at https://www.KaitlinORiley.com.