Sponsored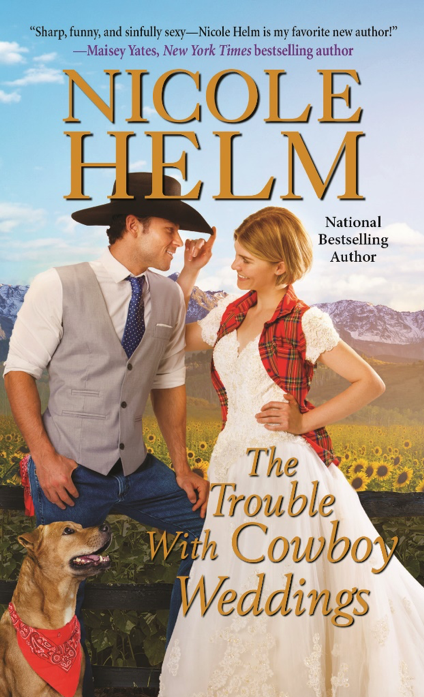 From Nicole Helm, the author of the nationalbestsellingStone Cold, Navy SEAL Cowboys, and Big Sky Cowboys series!
In Colorado's glorious Big Sky Country, everything is done with cowboy flair—even
boot-stomping, hat-tipping cowboy weddings . . .
As the middle Tyler brother, Gavin doesn't always have much say in ranch decisions, but when it comes to his heart, he's the only authority. He's loved Louisa "Lou" Fairchild for longer than he can remember, even though they've never been more than friends. But with Lou stuck between the proverbial rock and hard place, Gavin is going to help the way any true friend would—with a proposal of a strictly business-like, in-name-only marriage . . . at least to start.
Lou can't believe her beloved grandmother has backed her up against the wall. The choice between finding a man to marry and letting her no-good father back into the family to run the ranch isn't a choice at all! But when her sister counters with an even less savory idea, Lou knows what she must do—say yes to the only man she's ever trusted. But somehow pretending to be in love with good-natured Gavin suddenly begins to feel alarmingly real—and she downright likes it.
Can a sham marriage become the truest kind of love?
*************************************************************************************
An excerpt from The Trouble with Cowboy Weddings by Nicole Helm
Gavin Tyler parked his truck in front of the barn that acted as headquarters for Lou's Blooms.
He'd done a lot of the rebuilding of the barn himself, and it looked good. The red paint had gone on last month after a rough winter, and a Colorado spring hinted at green around the barn, the peaks of the snow-capped Rockies in the distance.
Lou's flower farm was beginning to sprout, and Gavin smiled. Lou didn't like his help, but she'd been forced to take it over the past year, and that meant he'd had a hand in building something for once.
It felt good.
He grabbed the sandwiches he'd brought over and headed for the entrance. The large barn door was open to the cool spring air, and Lou stood over a long table the length of the wall, measuring and cutting ribbon.
Her good side faced him, which meant her dark blond hair flirted with her chin, though it was tucked behind her ears. Her profile was all sharp angles that reflected her personality better than just about anything else. She wore a long-sleeved T-shirt and baggy jeans, and even though it had been a year since a fire had claimed most of her barn and some of her skin, he wasn't used to the way her physicality had changed.
She'd never been überfeminine like her sister, Em, but baggy and hidden away had never been her style either. It was hard to watch his friend retreat into this strange shell she was building for herself, and harder still that no one seemed to be able to pull her back out.
Still, he tried, because he wasn't ready to give up on her. Probably never would be. She'd been a constant in his life since she'd moved in with her grandparents on the Fairchild Ranch, the neighboring ranch to the Tylers.
And since he was a Tyler, he never gave up—not on family, not on friends.
He forced his feet forward and plastered a pleasant smile on his face. "Hungry?"
She didn't even look up. Likely she'd heard his truck approach and knew exactly who was standing in the entrance of her barn. "Whatcha got?"
"Deb Tyler special. How are the wedding flowers going?"
"Going." Lou straightened and stretched, and though she tried to do it surreptitiously, Gavin didn't miss the way she checked to make certain her bandanna was covering the burned side of her face.
She'd had a hell of a year, what with her grandfather dying somewhat unexpectedly only a month before the fire. It was more than half of why he put up with the snarly, angry caricature of herself she'd become since the fire.
Still, it required a certain amount of patience. Patience he wouldn't have thought he had, but . . .
Well, he'd found some. For her anyway. She studied him from across the room. She kept her distance these days. Physically, emotionally. He would never have presumed she'd told him everything in her life, but he knew a lot about Lou Fairchild.
Including the fact that she wasn't herself, and something needed to change.
Gavin raised his eyebrows when she continued to stare at him without speaking. "Everything okay?"
"Gav . . ."
He waited. She rarely shortened his name these days. One of those soft things that had been burned to ash, like her barn and parts of her body.
"I need . . ."
She trailed off, but he waited. And waited. And waited. She held out her hand for the sandwich his mother had made her. He smiled and shook his head.
She grunted irritably. "Grandma isn't budging. She even called . . ." Lou pulled a face. "My father."
"Your father the deadbeat?" Gavin didn't know all the details, but he did know Lou and her sister Em had been moved to their grandparents' care as kids because their father had neglected them.
"Between losing Grandpa and . . ." Lou swallowed and pointed to her face. ". . . this," she finally finished. "I don't know who she is anymore."
Which sounded all too familiar to Gavin, but he didn't think he should point that out to her in the
moment. "I could talk to her again. Assure her I'd take over as manager and we could work whatever protective clauses she wanted into a contract." He tried not to let himself hope for that. He had a place on the Tyler Ranch. It was a good place, a solid place. A place within his family's ranch. Blood rights and the like.
But he hated being second fiddle to his older brother Shane, no matter how much he loved him. He wanted to be in charge of something too. Have something that was his, not just the odd cattle drive but a whole spread. Just him. Running the Fairchild Ranch on the land not used for Lou's floral business, well, it would be something like a dream come true.
"I've asked her to sell. I've asked her to hire you or anyone. I've asked her for every reasonable alternative, and she insists only a Fairchild or a man married to a Fairchild can take over the ranch. So if Em and I aren't going to go find ourselves some husbands, she's going to make my father come here. He'd run it to the ground, Gavin. Into the damn ground."
"What did Em say about that?"
Lou pressed her lips together and turned away from him. He wasn't sure he'd ever understand why she'd decided she had to be solitary and strong when she had so many people who wanted to help her.
"You have to tell her," Gavin said, trying for the same mix of firm and gentle his mother often employed to get her way.
"I can't tell her. Our father is . . . I can't tell her Grandma's contacting him."
"Lou."
"I can't tell her. I'm her older sister. I've protected her this long and what's more . . . She's got nothing to do with the ranch. She loves running the bakery in town. Cattle and flowers aren't her problem. I've had a hard enough time convincing her of that. I'm not going to add another layer. She's separate."
"I don't think that's true."
"It's true enough. And it's final." She turned back to face him. "Sandwich." She held out her hand, a demand she didn't expect him to refuse.
He was starting to think she needed a little refusal in her life. He held on to the sandwich his mother had made for her. "What if I had an idea?"
Everything about her expression went wary. For the past year, she'd been accepting his help because he hadn't given her a choice. She complained bitterly, and withdrew from asking him for any favors—not that she'd ever been keen on asking for help.
Still, he helped, and because he'd been there when her grandmother had refused to hire Gavin as ranch overseer, and had seen Lou's own stubbornness dug into Mrs. Fairchild's face, he'd mulled over this problem for a few weeks.
He had a solution. One he knew she'd refuse and hate, but maybe if things were this bad . . . Hell, it was worth a shot. What was there to lose?
Your dignity?
He shoved that thought away and grinned at her.
"I hate your ideas," she said.
"And you'll undoubtedly hate this one, but I don't see you coming up with better."
She crossed her arms over her chest. "Fine, what is it?"
"You could marry me."
She laughed, and it was nearly foreign for as little as he'd heard that sound from her lately. "Yeah, sure, Gav. We'll get married. Have, what, eight kids? Maybe ten. I always wanted to be a brood mare." He didn't laugh along with her, nor did he let himself get bent out of shape. He focused on being calm.
"I'm not joking."
"Then you should have gotten your head checked when that horse bucked you."
Irritation simmered through him. "I was not bucked, and that is so incredibly beside the point." He pushed out a breath. He wasn't calm in most areas of his life. In fact, he was known around Gracely as the Tyler with the short temper. But he'd hold his temper for Lou. "Your grandma wants you taken care of, and maybe she's . . . Look, maybe she's still reeling over your grandpa, or whatever it is, but if we get married, it won't take too long to get all the land and business moved into your name, and then we'll get divorced."
She shook her head, taking a few steps away from him. "You can't . . . I can't . . ."
"What are friends for?"
"Not marriages that are legally real and emotionally fabricated!"
"You're putting a lot of limits on friendship. Remember the time I wrecked my truck so you could
blame me for the dent in your grandfather's? That was a much, much larger sacrifice than marriage."
"My ass."
"I loved that truck," he said, placing a hand over his heart. But she wasn't swayed and she didn't smile. "What would we have to do for it to work?" he asked gently.
"Lose our minds."
"Lou, come on. It's the easiest solution you've got. Why not take it?"
"Maybe I'm tired of you cleaning up my messes, Gavin."
"Have I ever complained?" Not once. He'd clean up a million of her messes without one complaint. "I'm going to bring Em in if you don't agree. I'll tell her about your grandmother contacting your father."
The steps she'd retreated she immediately retraced, violence all over her expression. "I'll kill you first."
"You really think she's not going to find out? That your grandma won't tell her, or that you'll be able to keep it bottled up? Lou, come on. Be reasonable."
Lou whirled away and slapped her hands on the long worktable. Then she simply stood there, her ragged breathing the only sound in the barn.
He wanted to ease this for her, but if he told her that, with the bald emotion coursing through him, she'd only shut down further. Unfortunately, when it came to Lou, sometimes retreat was the only viable option.
He didn't touch her, though that was what he wanted to do. Instead, he slid the sandwich in front of her. "Think about it."
"No."
"Fine. Lose the ranch and your life's work." He had to focus to make sure his voice was even and casual and didn't include the hint of temper that was beginning to light. "If you change your mind, you know where to find me."
With that, he forced himself to leave the barn and head back to the Tyler Ranch, where he'd take orders from his mother and older brother and feel about as useful as a legless horse.
*************************************************************************************
Want to read more of The Trouble with Cowboy Weddings? Click here!
About Nicole Helm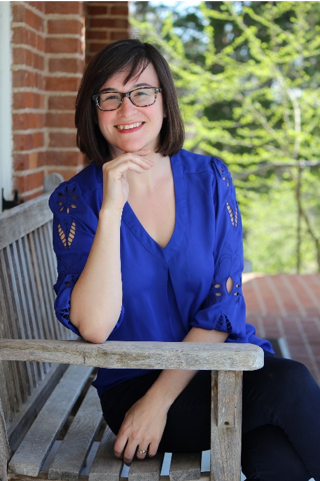 Nicole Helm is the bestselling author of down-to-earth contemporary romance and fast-paced romantic suspense. She lives with her husband and two sons in Missouri enjoying Cardinals baseball and dreaming about someday owning a barn. Readers can visit her website at www.nicolehelm.com.