Sponsored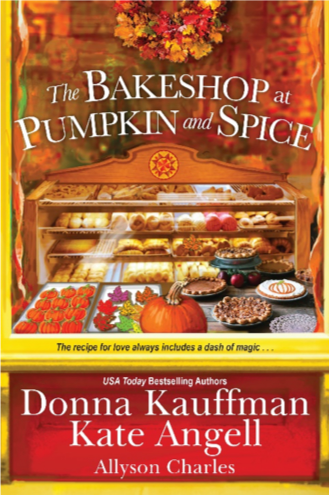 With just a touch of magic, a full measure of spice and plenty of Halloween fun, three beloved contemporary romance authors contribute connected novellas in this delightful anthology that captures the spirit of Halloween and the fall season. Welcome to Bellaluna's Bakeshop, where patrons who are unlucky in love might just find that special someone after sampling one of the delicious baked goods.
Pumpkin Spice Sugar Cookies with Pumpkin Buttercream Frosting
3 cups cake flour
3 teaspoons baking powder
1 teaspoon pumpkin pie spice
1⁄2 teaspoon cinnamon
1⁄2 teaspoon salt
1⁄2 cup (1 stick) butter, room temperature
1 cup sugar
2 large eggs
1⁄2 teaspoon vanilla extract
1 cup pumpkin puree
In a medium bowl, combine cake flour, baking powder, pumpkin pie spice, cinnamon, and salt. Set aside.
Using an electric mixer, cream butter and sugar. Add in eggs one at a time, stirring after each addition, followed by vanilla extract, then pumpkin purée. Gradually add in flour mixture until combined.
Chill dough for at least one hour in refrigerator. Makes one dozen cookies.
Preheat oven to 350 degrees Fahrenheit. Line baking sheets with parchment paper.
Roll 3 tablespoons of dough into a ball. Use flour on your hands if needed. Place ball on baking sheet and flatten to about 1⁄2 inch thick, molding sides to keep round shape if necessary. Continue with remaining dough, placing each 2 inches apart.
Bake in preheated oven for 10 to 12 minutes, just until bottoms begin to lightly brown. Cool for a few minutes on baking sheet, then transfer to a wire rack to cool completely.
PUMPKIN BUTTERCREAM FROSTING
3 to 31⁄2 cups confectioners' sugar
1 teaspoon pumpkin pie spice
1⁄4 teaspoon cinnamon
1⁄2 cup (1 stick) unsalted butter, softened
1⁄3 cup pumpkin purée
In a medium bowl, combine confectioners' sugar, pumpkin pie spice, and cinnamon and set aside.
Using an electric mixer, combine butter and pumpkin until combined. Gradually add in confectioners' sugar mixture.
If frosting is too thick, add more pumpkin purée, milk, or water until desired consistency is reached.
If frosting is too thin, add in a little more confectioners' sugar.
Frost cookies and set aside for frosting to dry.
Get your copy of THE BAKESHOP ON PUMPKIN AND SPICE HERE!
ABOUT THE AUTHORS
DONNA KAUFFMAN is the USA Today and Wall Street Journal bestselling author of over 70 novels, translated and sold in more than 26 countries around the world. Born into the maelstrom of Washington, D.C., politics, she now lives in the Blue Ridge Mountains of Virginia, where she is surrounded by a completely different kind of wildlife. A contributing blogger for USAToday.com, she is also a DIYer, a baker, a gardener and a volunteer transporter for the Wildlife Center of Virginia and Rockfish Sanctuary. Please visit her online at www.DonnaKauffman.com.
USA Today bestselling author KATE ANGELL lives in Naples, Florida. She's an animal lover, avid reader, and sports fan. Bookstores are her second home. She takes coffee breaks at Starbucks. Her philosophy: Out of chaos comes calmness. Enjoy the peace. Please visit her on Facebook or at www.kateangell.com.
ALLYSON CHARLES lives in Northern California. A former attorney, she happily ditched those suits and now works in her pajamas writing about men's briefs instead of legal briefs. When she's not writing, she's probably engaged in one of her favorite hobbies: napping, eating, or martial arts (That last one almost makes up for the first two, right?). One of Allyson's greatest disappointments is living in a state that doesn't have any Cracker Barrels in it. You can find her at https://www.allysoncharles.com or on Facebook at facebook.com/AuthorAllysonCharles.