By Marybeth Chelanga
Leading into the holidays, one can't help but have fitness on the mind. I, myself, have already started digging deep into the cookie jar. There's no reason anyone has to completely abstain from all of those delicious holiday goodies. The secret is to earn those pie and cookies!
There's no better time than now to get the best out of yourself!
Pushing hard for the last ½ mile or last 5 minutes of a workout will set you up for serious improvement and a new level of you!
PRO FITNESS TIP
No matter what type of workout you are doing, it will always feel awkward and ugly for the first 2 to 3 weeks. If you can hang on though, it will then become fun, and you will start feeling like a ROCK STAR! Setting a goal not only is motivating to improve upon it each day, but you will see the improvement comes naturally the more you work at it.
This month we headed to Columbia, SC – FORT JACKSON
Where to Bike & Run at fort jackson
Fort Jackson is filled with places to workout! Whether you like hills or flats, long miles or short, waterfront, or woodsy trails, you won't have any trouble finding what you are looking for in Columbia, SC.
ON Base
The Fort Jackson Passage of the Palmetto Trail runs for 16.2 Miles! It perfectly serves joggers, bikers, avid runners, and strollers. With easy rolling hills you'll be sure to get your workout in.
OFF Base
Be sure to visit the Columbia Riverwalk that runs for a total of 12 miles along the Congaree river! Sesquicentennial State Park, just minutes from base, boasts 12 miles of wooded trails and a small pond perfect for kayaking, canoeing, and paddleboarding. Harbison State Forest is 18 miles of trails and truly a nature getaway.
Fitness Groups
FORT JACKSON IS HARDLY LACKING IN FITNESS CAMARADERIE!
This month I had the great pleasure of joining the Fort Jackson Stroller Warriors for a run! What a great group of truly committed ladies. If you are looking for the perfect training buddy or maybe just a friend, get out there and join the Stroller Warriors at Fort Jackson. They meet up at least twice a week, strollers are not required, and every level of runner or walker is welcome!
If you are in the area, also be sure to check out the Columbia Running Club and their many running groups off base.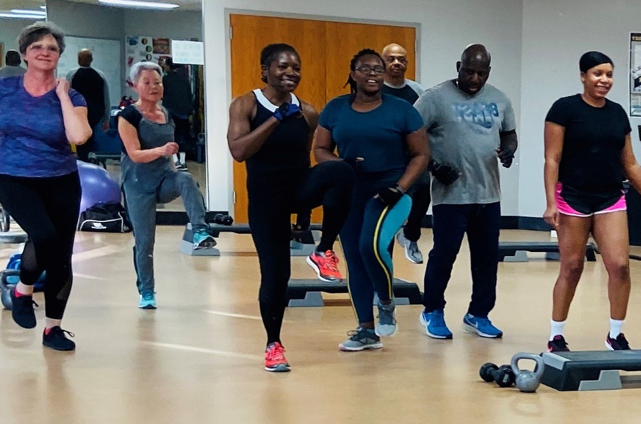 The MWR Fitness classes are nothing to ignore! If you are looking for anything from Aquatics, to Zumba, Spin, Cardio or Yoga, MWR has it covered. Come out and join! You'll meet first timers and 13-year veterans of these fitness classes. Their quote of the month is "consistency pays off". So why not start that consistency now?!
"It's not the days that you feel fresh and eager to get out there that make you better, it's the days you are most tired, and still get out there that will make you stronger."

-Paul Tergat, Olympic silver medalist and marathon world record holder from 2003-2007
December Challenge
With your spouse being subject to those PT tests and having a job that is physically demanding, fitness is easily something you can both have in common. Doing an evening jog or pushups together before bed can not only encourage your spouse, but also bring you closer to one another.
1 wintertime treat isn't so NAUGHTY & tastes all that NICE…Homemade Hot Cocoa
Just 4 ingredients: 2 tbsp cocoa powder, 2 tsp sugar, water, and milk
I treat myself to a cup of homemade cocoa every evening! It gives me that chocolate and sweet fix without any of the regret 😊. I sometimes add a couple spoonfuls of quick oats if I am a little extra hungry.
2 INJURY PREVENTION SECRETS ALL OF THE PROS USE
1. Trade in those old kicks for new well supportive sneakers at least every 3 months!
2. Become best friends with these 3 items: "The Stick", the Roll Recovery R8, and a soft ball (perfect for targeting the glutes and hip flexors). Rolling out your muscles helps them recover faster and get out any kinks before your next workout.