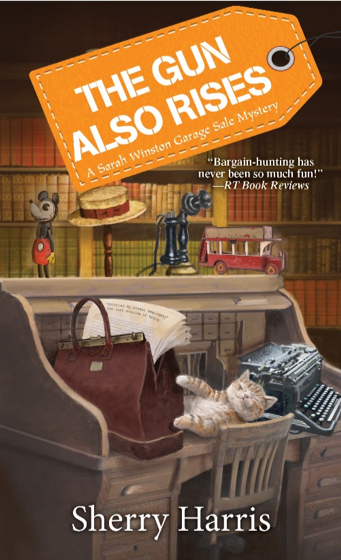 The first book I ever wrote had a protagonist who was a military spouse. That book is still sitting on my computer and will probably never be out for public consumption. When I got the opportunity to write the Sarah Winston Garage Sale mysteries, I knew I wanted Sarah to be a military spouse too. One of the best parts of my life was the eighteen years while my husband served in the Air Force.
We all know how difficult life can be when your spouse is in the military. But I also knew that my non-military friends didn't get it. Through Sarah I can write about that life in a way that is entertaining, but also educational. Sarah's life is way more complicated than mine ever was, but at the same time she does some of the things I did like join the Spouses' Club, go to dining outs, and volunteer at the thrift shop. I might have found some disgusting things while sorting at the thrift shop but fortunately, unlike Sarah, I never found any dead bodies.
Through Sarah I can talk about the lovely friendships I formed during our eight different assignments. The lonely nights when my husband was away. The responsibility that lands on a military spouses' shoulders. Things people don't know about like the playing of Revelry, the national anthem, and Taps. The giant voice over loudspeakers when there's an exercise or incident.
Writing this series has also given me an opportunity to shine a light on some of the difficulties we face as military spouses. In the sixth book, The Gun Also Rises, one of the subplots is about a woman who is fighting her own depression as her spouse struggles with PTSD. It's so easy for dependents needs to get overlooked when the military member is having problems. And there still can be a culture of keeping a stiff upper lip when really seeking help is the better thing to do.
Two things have happened as a result of writing this series that make me happy dance. Military spouses and members write and thank me for getting it right. Even better non-military people write and say how much they enjoy a look inside a lifestyle they know nothing about. I hope the books capture the joys and disappointments of being a military spouse. And let people know that a spouse and children serve too. I'd love to hear about your experiences as a military spouse. You can write me at [email protected]. Thank you for your service!
Get your copy of THE GUN ALSO RISES HERE!
ABOUT THE AUTHOR
Sherry Harris started bargain hunting in second grade at her best friend's yard sale. She honed her bartering skills as she moved around the country while her husband served in the Air Force. Sherry combined her love of garage sales, her life as an Air Force spouse, and her time living in Massachusetts as inspiration for this series. Sherry is an independent editor for fiction and nonfiction writers, a member of Sisters in Crime, Sisters in Crime New England, and Sisters in Crime. Chesapeake Chapter. She blogs with New England mystery writers at www.WickedAuthors.com. You can also visit her at her website, www.SherryHarrisAuthor.com.