Sponsored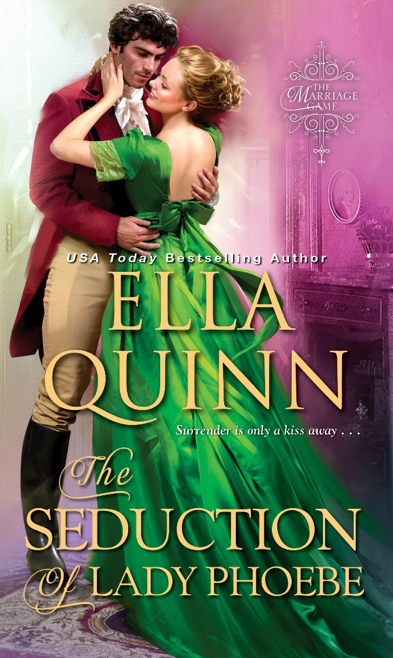 Polite society has its rules for marriage. But for Ella Quinn's eligible bachelors, their brides will show them that rules are for the faint of heart…
Phoebe Stanhope is not a typical Lady. As feisty as she is quick witted, no one can catch her, especially when she is driving her dashing phaeton with its perfectly matched horses. And unlike her peers, experience has guarded her against a growing list of would-be suitors. But when she encounters Marcus Finley, what she fears most burns deep within his blue-eyed gaze…
For Lord Marcus, the spark of recognition is but a moment in the love he has held these many years. Now that he's returned to England, all the happiness he desires rests on Lady Phoebe never finding out that he was the one who turned her heart so cold and distant. He must work fast to gain the advantage—to convince her what she wants is exactly what she denies—but in order to seduce her into his arms, he must be willing to give up more than he can control…
"Lady Phoebe is a heroine Georgette Heyer would adore—plucky, pretty, and well worth the devotion of the dashing Lord Marcus. A marvelous find for Regency romance readers."
—Grace Burrowes, New York Times bestselling author
*************************************************************************************
An excerpt from The Seduction of Lady Phoebe
Late June 1806, Worthington Hall, England
Lord Marcus Finley poured his third glass of brandy and strolled back to the library window. The sunlit terrace and lawn provided a stark contrast to the dim, wood paneled room in which he stood contemplating his bleak future and imminent banishment to the West Indies.
His gaze was drawn to the petite figure of Lady Phoebe Stanhope. The sun caught her reddish-blond curls, creating a halo effect as she laughed and played with the Worthingtons' young girls. Simply seeing her joy eased some of his pain.
Everything about Lady Phoebe was perfect, from her curls and deep sky-blue eyes to her small feet and neatly turned ankle. There was a connection between them. He'd felt it. She was the only one who had tried to understand him. He wanted to marry her, but it seemed impossible now. Why had he met the only woman he'd ever want just days before he left?
He wondered what their children would have looked like. Another rush of anger swept through him, and he forcibly loosened the fingers he'd tightened around his glass.
"Marcus, there you are."
He turned as his friend, Lord Mattheus Vivers, heir to the Earl of Worthington, strode toward him. Vivers was the only reason Marcus was at the house party. His friend pointed at the brandy. "That's not going to help, you know."
Marcus stared at the glass for a moment, watching the sun catch the amber shades of the liquid before downing the drink. "I'm going to hell in any case. What does it matter how I do it?"
Vivers rubbed a hand over his face. "When was the last time you were completely sober?"
"When my father told me I was being banished—and to where." Marcus turned back to the window, his anger consuming him. Even his brother, Arthur, hadn't defended Marcus. That had been the worse betrayal.
Vivers joined him at the window. "What's so interesting out there?"
Marcus went back to the view of Lady Phoebe. "My last unshattered dream."
Vivers glanced out. "Lady Phoebe Stanhope? Give it up."
Scowling, Marcus replied, "Why? I may be a second son, but I'm still eligible. Once I reach my majority, I have the inheritance from my mother's aunt."
His friend ran a hand through his hair, disordering its fashionable style. "Very well, I'll list the reasons. You're a minor and need your father's consent to wed, the same father, by the way, who is banishing you to the West Indies before you embroil yourself in a scandal here that can't be smoothed over. The most important is she is not yet out."
Marcus's stomach clenched as if he'd been punched. "What do you mean she's not out?"
"Not. Out. Not old enough to be on the Marriage Mart,"
Vivers enunciated clearly. "At twenty you're five years too young yourself. Do you really imagine that her father would consent to you marrying her? Ladies marry at twenty, not gentlemen."
Marcus shook his head, trying to clear it. Why was she at this house party then? Was this some joke fate was playing on him? Or was it more punishment? "How old is she?"
"I don't really know," his friend shrugged. "Sixteen or seventeen, maybe. She has a great deal of countenance, so it's hard to be certain. It's a shame you won't be here when
she does come out," Vivers mused. "I don't expect she'll last long on the Marriage Mart."
Marcus felt like he was dying. By the time he was five and twenty, she would be married and have children. "Perhaps Lady Phoebe would go with me to the West Indies. God knows I love her."
"We'll have dinner at the tavern and attend the cockfight," Vivers said. "That will put you in a better frame of mind. She leaves early to-morrow. Better if you don't see her."
Marcus poured another glass, tossed it off. "There must be something I can do."
He went to add more brandy to his glass, but Vivers snatched the tumbler from Marcus's hand.
"You've had more than enough to drink. Good God, man. Get it through your head. You cannot marry her. Now go to your chamber, and sleep it off before you do something stupid."
Vivers left, and Marcus went to follow. He wobbled a bit as he took a step.
Lady Phoebe was waving as she made her way to the house. He would intercept her and make his case. This was his last chance to win her. In nine days he'd be on a ship to the West Indies, but first he'd take her to Gretna Green.
* * *
Phoebe entered the house through a side door. She'd thought Lord Marcus would join them outside and wondered if he was off with Lord Mattheus. Lord Marcus was so nice—no, better than nice—and handsome. Her stomach felt like it had butterflies whenever she thought of him.
He'd touched her hand once and it tingled. She couldn't even breathe when he was near, his presence filled her with such joy and her heart pounded when they spoke. Phoebe was sure she was in love. Nothing else could be so magical.
She hesitated, remembering what Lady Worthington had said. That Lord Marcus wasn't at all the thing, and that he was being banished before he caused a large scandal. But if that was true, surely Phoebe would not have fallen in love with him. The only thing to do was to ask him about the rumors.
An hour later, dressed in a very pretty gown of sprig muslin, Phoebe made her way toward the drawing room, passing through the picture gallery. The afternoon sun lit one-half of the wide corridor. Long mullioned windows were flanked by red and gold brocade hangings and red velvet-covered benches sat against the outside wall.
Centuries of portraits of somber-faced Vivers hung on the inside paneled walls. As she approached the ancient, carved, double doors leading to the grand staircase, something moved. She stopped.
Lord Marcus staggered slightly as he strolled out from the corner. "I've been looking for you, my dear." His words were slurred as if he was drunk.
"Lord Marcus, have you been drinking?" A chill ran through her as she remembered what Lady W had said.
"Just a mite," he said. "Liquid courage and all that. I have something important to discuss with you."
She raised her chin and moved to go around him. "I have nothing to say to you, my lord."
"But I have a lot to say to you, m'dear." He held out a hand to block her exit. "Come to me, Phoebe."
Her initial trepidation turned to rage. She narrowed her eyes and used her coldest tone. "How dare you address me in such a manner? Out of my way and let me pass." How could she have been so wrong, and now what was she to do?
Lord Marcus's arm snaked out to grab her. "I've a better idea."
Phoebe jumped back and tried to run around him, but he caught her. The strong scent of brandy assailed her nose. Her heart thudded wildly. What a mistake she had made. Lord Marcus was nothing like she'd imagined. She had to get away from him.
His arm tightened around her. He took her jaw in his hand and turned it to face him. "I love you, and I want you to be mine." His gaze burned hot. She shook her head back and forth, trying to avoid his lips and his fingers brushed her breast. A jolting thrill went through her followed by overwhelming panic. What had he done to her?
For the first time in Phoebe's life, she was truly afraid. Desperate, she broke his hold and drove her fist into his nose.
Blood spurted out. Lord Marcus reeled back and fell to the floor with a grunt.
She stood over him, shaking with anger. "You rogue— you have the privilege and wealth of a gentleman, and what do you use it for? Nothing. I didn't want to believe the stories, but you've proven them true. You treat people with contempt and wonder why you're not respected. Until you learn to put others first and use your power and affluence to help people rather than hurt them, you will remain the poor excuse for a man you are now. Leave this house now. I never want to see you again."
Phoebe turned on her heel then strode swiftly away. She'd not give him the satisfaction of seeing her run—or realizing how much his behavior had devastated her. She'd thought she loved him. How could she ever trust her judgment again?
Once Phoebe reached her room, she rang the bell for her lady's maid.
Rose entered from the dressing room and dropped the garments she was carrying. "Oh, my lady, you're so pale. Why do you have blood on your gown? Are you hurt?"
Phoebe blinked back the tears. She would not cry further over Lord Marcus. He wasn't worth it. "I'm not injured," she said, hating the tremor in her voice, "but I cannot go down to dinner."
"Don't you worry," Rose said. "I'll send a message to her ladyship that you're not joining them and order you some warm milk and toast brought up."
Rose helped her mistress undress and into her nightgown, all the while listening as Phoebe poured out the whole tale.
"My lady," Rose said, "you must tell your mamma what happened. That young man should be punished."
Phoebe shook her head. "No, I don't want anyone else to know. I'm so ashamed. Oh, Rose, what did I do to encourage him to treat me so badly?"
The maid combed Phoebe's hair and made soothing noises. "You didn't do nothing, my lady, and don't you think it. Lord Marcus Finley is young, wild, and headstrong as they come. A bad apple. Heard all about him at the table in the servants' hall. From the tales his groom told, his lordship doesn't have any business being around decent folks until he mends his ways."
The milk and toast came, and Rose made Phoebe drink and eat before finally tucking her desolate mistress into bed and pulling the hangings closed.
Phoebe lay in the darkness trying to push Lord Marcus Finley out of her mind. He was a vile rogue and an arrogant troll. Thank God, he was being sent to the West Indies. She would never have to ever see him again.
Eight years later. June 1814, Newhaven, Sussex, England
Guy, the Seventh Marquis of Dunwood, watched as the American-made schooner approached the dock. A tall, tanned, young man in his late twenties stood at the bow, a line in hand ready to throw to one of the dock hands on the pier. He looked more like a seaman than a well-born gentleman.
His youngest son. The one, Guy thought ruefully, he hadn't recognized two years ago, when Marcus had come to visit.
The line sailed through the air and looped perfectly around a piling. After tying it off, Marcus walked back and addressed the captain before disappearing from sight.
Not more than a half an hour later, Dunwood greeted his son. "Welcome home. You could have returned earlier." The good humor drained from Marcus's eyes. "Not and have made provisions for Lovet's family. They were left in bad straits when he died."
Dunwood would never understand the reason his son saw the need to care for those who were not his dependents. Apparently the West Indies had more of an impact on him than Dunwood thought it would. Well, what Marcus did with his private fortune was no bread and butter of Dunwood's. Rather than argue, he asked, "How is the new steward doing?"
His son's broad shoulders relaxed. "Well indeed. He used to work for the Spencer-Jones family, but when their third oldest son married, the property my new steward was managing went to the son. The man came highly recommended. I made the offer before anyone else could beat me to it."
"Good. I'm glad you were able to find someone." Dunwood started toward the two large coaches near an inn. "Where are your trunks?"
"I've only one. Covey, my man, will see it stowed," Marcus said. "How are Arthur and the girls faring?" "Your brother is doing as well as can be expected, as are his daughters."
Marcus glanced around to see Covey wave to him. The last time he'd visited his brother, Arthur was hale and hearty. Now he was dying of consumption. His wife had passed a few years ago leaving him two daughters, but no heir.
As a result, Marcus had been recalled from banishment. He wondered how difficult it was going to be, after all the years of being his own master, to live with his father and be under Dunwood's rule.
Glancing around the small town, Marcus felt as if he were in a foreign country, but he'd been gone long enough. He looked at his ship, the Lady Phoebe, tied up at the dock. Perhaps too long.
"After you've spent a few days visiting your brother, I'll take you to London." His father's lips formed a moue. "You need to call on Weston and Hoby to see about your clothing before the Little Season begins. One of your first jobs will be finding a wife."
Marcus nodded. At long last he and his father agreed about something. "I'll make it a priority."
Last week in August 1814, Cranbourne Place, England
Phoebe walked briskly into the large, sunny breakfast room, the train of her pale green nankeen riding habit draped over one arm.
She greeted her brother, Geoffrey, the sixth Earl of Cranbourne. "Good morning."
When he looked up from his news sheet and met her gaze, Phoebe saw the fatigue etched in his face.
"Oh, you poor dear," she said. "Is it the baby?" Miles was Geoffrey and his wife, Amabel's six-month-old son.
"Yes," Geoffrey replied. "He's getting his first tooth. I dare say, had I'd known he would be in this much pain, I would have recommended to him that he not bother."
Grinning, Phoebe said, "I am sure he would have appreciated the advice."
Geoffrey handed her a section of the news sheet, and they sat in companionable silence until her sister-in-law joined them.
After pouring a cup of tea, Amabel asked Phoebe, "When do you leave for Town?"
She swallowed a piece of toast. "Next week."
"I do wish I could go with you," Amabel said.
"What a whisker!" Phoebe smiled. "You have no desire at all to go to London and dance attendance on me, and, indeed, I have no wish for you to have to do so. I am quite content to stay with my aunt St. Eth. I much prefer the political parties the St. Eths attend."
Her sister-in-law pulled a face. "But they are so dry."
Phoebe laughed when Amabel wrinkled her nose. "I know, for you the subject is a dead bore, but I enjoy it extremely."
Her sister-in-law frowned. "My dear, how will you ever find a husband if you are attending only political parties?"
"It is not as if there are no unmarried gentlemen at the parties," Phoebe retorted. "Besides, I daresay I have met every unmarried gentleman the length and breadth of England. Not one has given me the smallest desire to marry. Perhaps I shall set up a salon and become a famous bluestocking."
Her sister-in-law's mouth dropped open in shock. "You cannot mean that!"
Phoebe tried to hide her exasperation. "I know you've tried very hard to bring about a match for me. I wish you would not persist. I shall marry when I find a gentleman I can love and not before."
"But you must marry," Amabel said. "You are almost twenty-four, and you are much too beautiful to become a spinster."
"I am well aware of my age," Phoebe said as mildly as she could. "I'm not on the shelf yet."
After taking a sip of tea, Amabel said airily, "I have invited my brother to visit us."
Phoebe creased her brows. "Evesham? I thought he was too ill to travel."
"No, Arthur is indeed too ill," her sister-in-law said. "I have invited my other brother, Marcus. He shall arrive in three days' time."
"Lord Marcus?"
Amabel hesitated before continuing, "He needs to marry now, and I immediately thought of you."
At the mention of Lord Marcus Finley, Phoebe's stomach clenched, and the humiliation she had not felt in years burbled within her, feeding her anger.
She took a breath and calmly but firmly said, "I have met Lord Marcus, we did not suit. Amabel, pray excuse me. I have just remembered something I must do."
Phoebe rose and left the room. Upon entering her chamber, she closed the door with a snap. The control with which she had been holding herself threatened to unravel. Lord Marcus Finley was back.
Myriad feelings of fear, hurt, and despair assailed her. It confused her to feel almost as raw as she had eight years ago when he'd shattered her childish romantic ideas. She had pushed him out of her mind then and, other than the bad dreams, had not purposely thought of him since.
She'd hoped never to hear his name again and certainly did not want to meet him. She'd learned to protect herself, but still mourned the loss of her innocence he'd stolen. She would not weep over Lord Marcus. No good could come of thinking of him. Forgetting that day had been easier when he had been safely across the ocean.
Phoebe breathed deeply and strode to her writing desk, a beautiful cherry secretaire. She furiously mended her nib then took a piece of hot-pressed paper, dipped the pen in the standish, and wrote her first letter to her aunt, the Marchioness of St. Eth.
My Dearest Aunt Ester,
I was very happy to receive your letter informing
me that you are now in residence at St. Eth House.
Dear Aunt, I am in sore need of replenishing my
wardrobe, and I trust it will not be too inconvenient
for me to come to you on Thursday. I look forward to
being with you soon.
Your devoted and loving niece,
P
She penned a letter to the inn she intended to stay at and then wrote a note to Amabel. An hour later she knocked on the door of Geoffrey's study, entered the room, and began
to pace.
He raised his brows. "Something has you in a bother. Is this about Amabel's brother?"
"Yes." Phoebe walked some more before turning to him.
"Geoffrey, I cannot see him again, I choose not to. I—I am sorry, but I have decided to bring forward my trip to London to to-morrow."
"Do you wish to tell me what this is about?" he asked with grave concern. "Shall I defend your honor?"
"No." She stopped as her throat caught. "I don't wish to talk or even think about it."
"If you change your mind, I'm here to listen." He paused. "I suppose you need my baggage coach?"
Phoebe smiled gratefully. "You are the best of brothers, but no, thank you. My excuse to Aunt Ester will be that I must shop. I shall take only what I can carry in my coach."
Phoebe handed him her missives. "Will you frank these for me? I want them to go by express post."
"Yes, of course." He took the letters, sealed them with wax and his signet ring before scrawling his title across them, and gave them back to her. "Tell Wilson I said to have one of the grooms ride to Town immediately. What
time do you plan to leave?"
"Quite early, I think, before Amabel is down to breakfast," Phoebe said quietly and left the room. She found her maid in the dressing room. "Rose, we are leaving in the morning and will take only one carriage. I would like to depart at seven o'clock."
"May I ask, my lady, if this is to do with Lady Cranbourne's brother?"
Phoebe sighed. "I take it the news of his impending visit is all around the servants' quarters?"
Rose nodded.
Phoebe answered her frankly, "Yes, that is the reason."
Her maid's face became militant. "Everything will be ready to leave at first light, my lady. There is no reason in the world why you should have to see that Spawn of Satan again!"
Early the next morning, Geoffrey handed her into the coach. "I'll see you when I come up for the legislative session votes," he said. "Give my love to Hermione and Edwin and Aunt and Uncle St. Eth."
Phoebe laughed. "Yes, yes—and William and Arabella and Mary," she added. "I shall. Thank you for being so understanding. I cannot imagine Amabel will be happy about this."
"No, probably not." He smiled wickedly. "Of course, not having married a harridan like m'sisters are, I know she won't fly up into the boughs."
Phoebe punched him playfully. "No, you certainly do not live under the cat's paw. She spoils you."
Geoffrey grinned ruefully. "So true. Is Marcus Finley that bad, love?"
"He is a disgusting, vulgar scamp!" she replied angrily.
"Oho, you did take him into dislike!"
"Yes." And now she must find some way to avoid him permanently.
*************************************************************************************
Want to read more of The Seduction of Lady Phoebe? Click here!
About Ella Quinn
USA Today bestselling author Ella Quinn's studies and other jobs have always been on the serious side. Reading historical romances, especially Regencies, were her escape. Eventually her love of historical novels led her to start writing them.
She is married to her wonderful husband of over thirty years. They have a son and two beautiful granddaughters. After living in the South Pacific, Central America, North Africa, England and Europe, she and her husband decided to make their dreams come true and are now living on a sailboat. After cruising the Caribbean and North America, she completed a transatlantic crossing from St. Martin to Southern Europe. She's currently living in Germany, happily writing while her husband is back at work, recovering from retirement.
Ella loves when friends connect with her on Facebook and Twitter. Readers can also find her at http://www.EllaQuinnAuthor.com