See this and more inside the July issue of Military Spouse Magazine!
We know so many spouses faced uniquely difficult deployments and delayed homecomings this year. Hear from these three, recently reunited families about how they overcame the challenges of a COVID-19 homecoming. Meet Thayer, Jessica, and Christy.
Thayer Lucero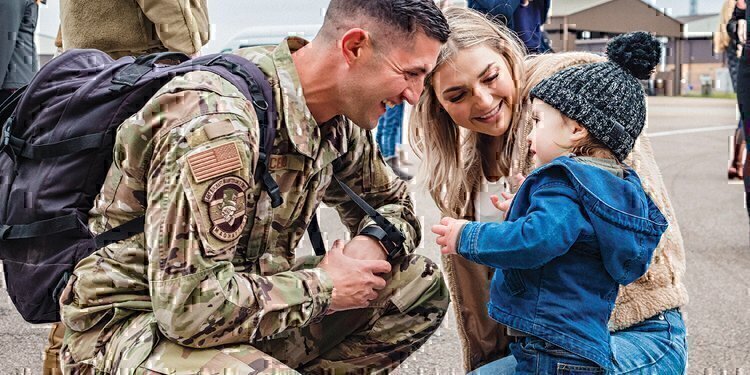 Spouse Name: Joshua
Branch: Air Force
Homecoming: March 2020
Instagram: @jessicathayer
Getting The News & Finding Normal
After two years of living abroad, we received the news that my husband was deploying. Prior to this he had only gone on a few TDYs. We were vacationing when we received the news that he was leaving a few days after our return to England. We felt extremely blessed that we had that family time prior to him leaving. Our son was a little over a year old when Joshua left.
It took about a month for us to adjust and establish a new routine. I was taking on ALL the responsibilities.
Thankfully, I had established an amazing support system. I realized I would need to put aside my pride and reach out for help. I stayed connected through social media and base events. I established play dates with my fellow mama friends. My girlfriends and I took turns hosting weekly dinner parties where we would cook amazing food, play games and catch up on all of our excitement and frustrations of the week. Playing uplifting music while I was cooking dinner was a must! My son and I would dance in the kitchen, and it would cheer us both up. I stayed connected with our family members back in the states. Self-care was also very important during this time. Little things such as a face mask, at-home yoga, or calling a friend to come over and watch my son just so I could shower in peace made all the difference!
The Challenges Abound
There were definitely challenges. I am sure everyone has heard of the dreaded "deployment gremlins," and oh, boy, it is so true! By the end of the deployment all I could do was laugh at what would happen next.
The deployment started in the middle of fall and lasted throughout the winter. Being in England was a challenge for me; it was dark, cold, and rainy for most of the day and it was very difficult to get motivated.
One of the hardest parts for me was to hear my son continuously ask for his daddy. Anytime we were around a man in uniform or he would see a picture of my husband he would ask where his dad was. Every night as I would be rocking him to bed, he would again ask multiple times before he fell asleep. It was heartbreaking!
Despite the challenges, I am extremely grateful for this deployment. It was a very empowering experience filled with an immense amount of personal growth. I grew in my faith, took on new hobbies and learned more about myself and what I am capable of. I tried to maintain "a glass half full" perspective to keep focused and motivated. Of course, I had plenty of days where I was down and unable to stay positive. I just knew it was temporary and I would wake up the next day ready to go again!
When Homecoming is on the Horizon…We Hope
After a couple weeks of uncertainty and an ever-changing return date, the day finally came for my husband's return! We were extremely fortunate that he returned just before the DOD travel ban went into effect.
When he saw my husband, my son was completely in shock. It was so sweet to watch, he could not believe his daddy was actually there! The moment I saw Joshua was an indescribable feeling filled with so many different emotions. I had butterflies similar to the first time I met him. I instantly felt so relieved, like a weight had been lifted off my shoulders. And seeing my son have his daddy back made me so happy.
Home Sweet Home
For those of you who have been impacted by the pandemic, I want you to know that my heart goes out to you and you are in my prayers. To those who are currently or will experience a deployment in the future, I want you to know that you can do it! You are much stronger than you think you are. Take it day by day and use this time to become better.
The things that I learned from this experience, I will forever apply to my life.