Can you believe the holiday season is upon us? It seems like just yesterday, we were all navigating back to school and virtual learning. Now we are in full holiday mode.
Oh, by the way, in case you hadn't noticed, retailers practically skipped over Thanksgiving and went straight to Christmas. It's impressive just how fast the time has passed. We've missed a lot of opportunities to travel and  be with loved ones this year due to the pandemic. Although military families have some experience in this area, this year has been particularly hard.
E-commerce and retail experts predict that online holiday shopping will be nearly eight times the norm. After being cooped up in the house for months, parents want to make memorable holiday moments with their kids. Fortunately, you don't have to spend a ton of money to get in the holiday spirit. Whether you celebrate Thanksgiving, Friendsgiving, Christmas, Hanukkah, Kwanzaa, or nothing at all, a good deal is a good deal.
Since many of us aren't entirely comfortable venturing out to retail stores for holiday shopping, we will be relying on the internet. With so many options, it is easy to get lost in cyberspace. Amazon is a great one-stop-shop, but there are also some great deals at many of your favorite retailers. I wanted to find some affordable, yet luxe, items for the military spouse. Let's face it, being a military spouse is an honor, but it doesn't come without sacrifice. Wife/husband, mom/dad, key spouse, entrepreneur, friend, and leader are only a few of the titles you may hold. Running a military family can easily be compared to running a business. While you're probably used to making sure everyone else is okay, it is so essential that you engage in self-care. You can be pampered and spoiled with these gifts, all under $50.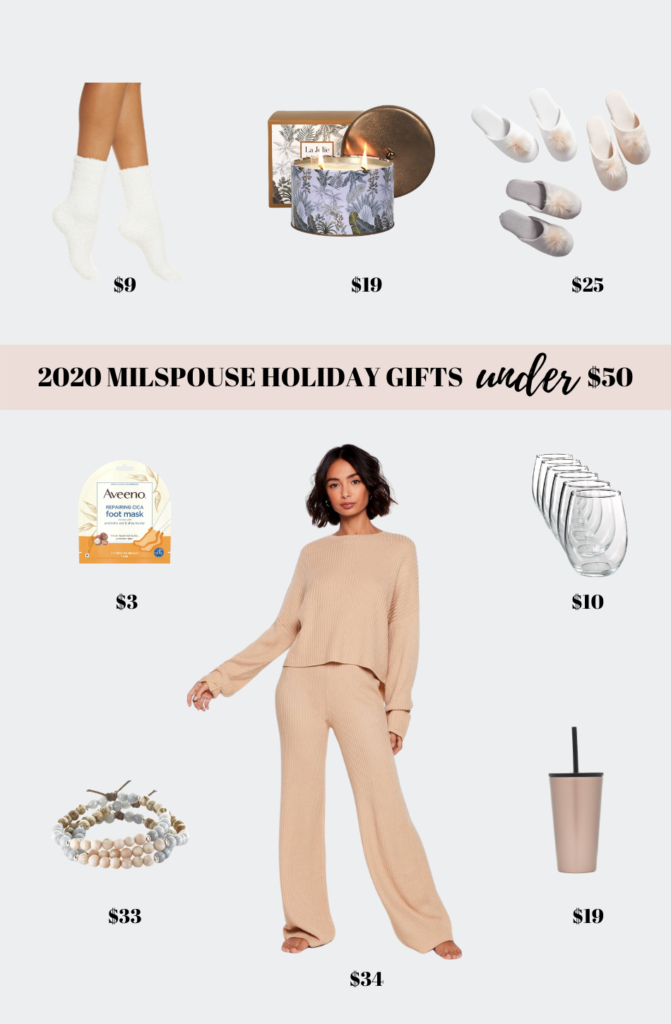 1: Comfy loungewear as a gift feels apropos since we spend most of our days in the house. This Knit Alone Sweater and Wide-Leg Lounge Set comes in various colors and is less than $34. They are perfect for home, but you can wear them out if you have to run some errands.
2: Charliemadison Originals, a military spouse-owned company, sells beautiful gemstone bracelets, each unique, each with a special meaning. The Grace Mini Bracelet is an everyday reminder to live life gracefully. Made of sunstone, light denim jade, and feldspar, the Grace Mini blends beautifully with the oatmeal, olive, and nude options of the lounge set.
3&4: If rocking these around the house, which I prefer, you can pair them with the Velvet Pom Pom Slippers from Pottery Barn or cozy Butter Crew Socks from Nordstrom.
5: One of my favorite self-pampering activities is doing a foot mask. Many of us have gotten accustomed to DIY mani-pedis lately. Aveeno makes an amazing Repairing Moisturizing Foot Mask that leaves your feet silky smooth.
6&7: And what's a self-care day without wine, coffee, or candles? Martha Stewart's 12 piece set of Stemless Wine Glasses are a steal at $10. At $19 each, the Simple Modern Classic Insulated Tumbler and La Jolíe MUSE Black Coffee Scented Candle are excellent choices for a coffee fix.
Whether shopping for yourself, a girlfriend, or your spouse needs some ideas, anything from this guide is sure to be a hit. The best part is you don't have to break the bank. You can purchase everything for around $150, or you can pick a couple of things to fit your budget.