From militarybridge.com
In honor of Veterans Day, Amazon has announced a special Prime deal for Active Duty Military and Veterans. The best part, this offer is available for both new and existing Prime members.
There are so many benefits to having a Prime membership. As an Amazon Prime member you have access to:
Prime Delivery: Unlimited Two-Day Shipping on over 100 million items and One-Day Shipping and Same-Day Delivery in over 10,000 cities and towns as well as 2-Hour Delivery with Prime Now in select cities.
Prime Video: Unlimited streaming of Movies, TV shows, and Amazon Originals
Prime Music: Over two million songs, always ad-free and on-demand
Exclusive Deals and offers, just for Prime members and much more.
VETERANS DAY OFFER–NOVEMBER 6-11, 2019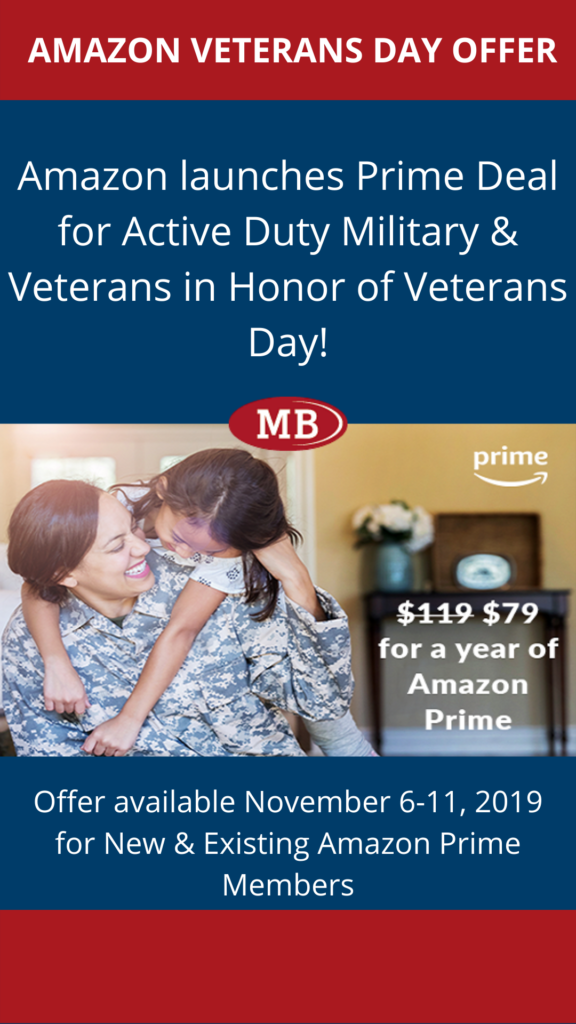 Amazon is proud to support veterans and active duty military members this Veterans Day. Active Duty Military and Veterans, save $40 on a year of Prime during Veterans Day weekend
Pay only $79 (regular price $119). Offer valid for new and existing Prime members.