From: MilitaryByOwner Blog
By virtue of our lifestyle, military families are better than average travelers. We know how to score hotel military discounts, use Space A, and see the luau at the Hale Koa.
But the beginning of each travel season brings a new crop of deals, information, and guides that can make vacationing or PCSing over the summer something to look forward too, not just endure.
Before packing the car for a week's worth of driving or standing in ridiculous TSA lines at the airport, read over these updated travel resources. They could save you money, time, and possibly some of your sanity while traveling this summer!
Airlines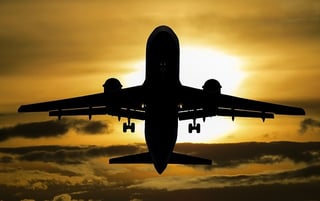 The word out on the online travel highway is that the weekends are now the new Tuesday of airline ticket buying.  As of now, the cheapest flights can be found on Saturday and Sunday. Tuesdays aren't totally kaput, but try surfing fares on the couch while binging on some trendy Netflix show during the weekend.
Social media is the place to find the deals any time of day. Flash sales on Twitter and direct emails from subscribed customers often yield cheap fares not broadcasted to audiences at large. Looks like you'll need to get that ghost email account to subscribe to all of the airlines.
Another trick for finding lower cost fares is to consider different companies for each leg of the trip. For example, for a round trip between Atlanta and Dallas, try Delta for a one way trip to Atlanta, but for the return back to Dallas via American. These hub cities have more inventory to offer which means less expensive options.
Websites and Apps
The app Hopper has been making the rounds for discount flight shoppers, likely because it was named the best travel app of 2015 by Apple. Hopper gives its opinion (with 95% accuracy, says the company) whether to buy the tickets now or wait. It will actually track and notify you by text if the prices drops.
One of my favorite websites for kid friendly travel destinations is Family Vacation Critic. Everything from dude ranches to all-inclusive Caribbean resorts are covered. I especially like how they break down travel suggestions by kids' age groups to maximize fun.
Another go-to of mine is everything that Kayak does. Their photography filled Travel Hacker Blog has a Tips and Trends section filled with hacks for all types of adventures.
Don't forget when searching online for deals and planning strategies to check: Groupon, Ebates, extended stay hotels, and Budget Travel.  If any of the National Parks near or far are on your bucket list, this is the year to do it.  They are celebrating their 100 year anniversary and have extra festivities throughout the system and free entrance for active duty military members.
Never Leave Home Without…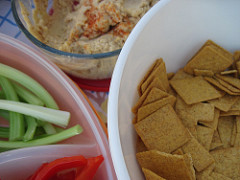 via Flickr user Kelly
Snacks. The more, the better. Packing your own is cheaper than terminal food, of course, but many airports have really great options whether it is a high end restaurant or a local brew pub. Local flavors will emerge to entice travelers, too. It might be a Coney Dog at the Detroit airport or Five Guys in the Washington, D.C. area but it's easy to get a taste of what's popular nearby.
Wipes. Not just for diaper changes; they work on everything in a pinch. Cleansing wipes for your face and disinfectant laden wipes work hard to keep hands, airline snack trays, and arm rests free of germs.
Charged electronics. Think about packing back-up wall and car chargers. The last thing you'll want to do on the road is find an Apple or AT&T store to buy yet another. Same goes for at least one extra set of ear buds.
Entertainment
Parents are always trying to sneak in a little bit of education during vacation. Use the trapped in the car/airplane hours to slip in some fun but informative movies to enhance the trip. One way to incorporate learning is to watch movies about your destination. Use the following examples for inspiration to Google, "movies about…"
Younger kids will be enthralled by Disney's Bears. The movie showcases the beauty of Alaskan wilderness through the lives of brown bears. The cinematography makes it, ahem, bearable for parents, too.
Headed to Europe? Parents could try to convince their older teens to go retro and view National Lampoon's European Vacation. It hits all the important sites in England, France, Germany, and Italy in a very Chevy Chase kind of way.
If you happen to be new to the military or haven't used your access to low cost vacationing, be sure to take advantage of our tried and true options: The Armed Forces Vacation Club, Space A Travel, Armed Forces Recreation Centers, SeaWorld and Busch Gardens Waves of Honor, discounted Disney tickets, USOs, and loads and loads of travel writing for your reading pleasure at MilitaryByOwner.
Written By: Dawn M. Smith
Connect with us on Facebook!