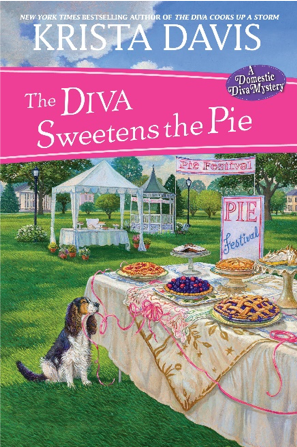 From the camp fire to the kitchen, S'Mores Pie IS always a hit
In New York Times bestselling author Krista Davis' Domestic Diva Mystery series, Entertaining Maven (and sometime-sleuth) Sophie Winston is left to dole out justice when Old Town, VA's annual Pie Festival crumbles into chaos after a celebrity judge is murdered.
A Domestic Diva is always ready to play host and this decadent S'mores Pie is the perfect bite of nostalgia for summer parties without the campfire!
S'mores Pie
You will need a 9-inch pie pan for this recipe. Note: Do not use Pyrex, glass, or ceramic pie pans under the broiler!
Ingredients
Graham Cracker Crust
9 sheets cinnamon graham crackers
6 tablespoons unsalted butter
Filling
11⁄2 cups heavy cream
pinch of salt
12 ounces semisweet chocolate chips
2 tablespoons unsalted butter
2 teaspoons vanilla
1 bag miniature marshmallows, divided
Directions
Preheat oven to 350 degrees. Melt the butter.
Pulse the graham crackers in a food processor until they are fine crumbs.
With the food processor running, pour in the butter.
Press into the pie pan with your fingers.
Bake 8–12 minutes.
Remove from oven and cool briefly.
Scatter the miniature marshmallows on the cooked and cooled graham cracker crust in a single layer.
Pour the cream and salt into a heavy pot and heat over medium. (It does not need to boil.)
When it warms, pour the chocolate chips in and stir continuously until it's smooth and all bits of chocolate have dissolved.
Add the butter and vanilla and stir until the butter is dissolved. It should be very hot. Pour over the marshmallows.
With the back of a spoon, push down any marshmallows that are not covered with chocolate. They will float to the top, which is fine.
Cool the pie completely and refrigerate.
When cold, add enough miniature marshmallows to cover the top. They're cutest if they all lie in the same position.
Place under the broiler just long enough for them to brown lightly, 45 seconds to 1 minute.
Get your copy of THE DIVA SWEETENS THE PIE HERE!
ABOUT THE AUTHOR
Krista Davis is the New York Times bestselling author of the Domestic Diva Mysteries, the Paws & Claws Mysteries, and the new Pen & Ink Mysteries, with covers that can be colored. Several of her books have been nominated for the Agatha Award. Krista lives in the Blue Ridge Mountains of Virginia with two cats and a brood of dogs. Her friends and family complain about being guinea pigs for her recipes, but she notices they keep coming back for more. Please visit her at KristaDavis.com.