Do you ever feel like a gem yet to be discovered or gold beneath a rock? As a military spouse, you are not alone. I have met so many amazing spouses who have talents and hearts so incredible, yet are hardly given the limelight they deserve. What I am learning is that the rock you are for your spouse is far greater than any rock that you may feel hidden beneath.
Melissa Pierce is one of those women. She is one of those spouses that has literally danced her way into the military. What I have found to be one of the greatest challenges in adjusting to the military is the need to neglect yourself and set your dreams aside while your spouse is the priority. Meeting Melissa has been an inspiration, for she did not set aside her dreams at all, she simply danced in another direction, toward her spouse and toward her family.
Melissa met her husband in her hometown of Cape Coral, Florida. They have been married for six years and have one beautiful little 13-month-old girl. Following in her mother's footsteps, Melissa started dancing when she was only 4 years old. Dancing was a way she felt she could express herself, make friends, and feel free. She grew up in a faith-based studio and was able to dance as an act of worship. She pursued her love of dancing to the professional level.
Melissa continues to dance, teach, and train regardless of where the the military leads her and her family.
The most beautiful dance she choreographs is her ability to spin, bend, and jump through all of the adjustments military life brings so eloquently.
It is inspiring to be able to see an example of someone who finds that they are able to be that gem and that gold whether someone can see them or not. To be able to dance through it all and to bring the music and the movement to this very unpredictable, uncontrollable life we are living.
Questions for Melissa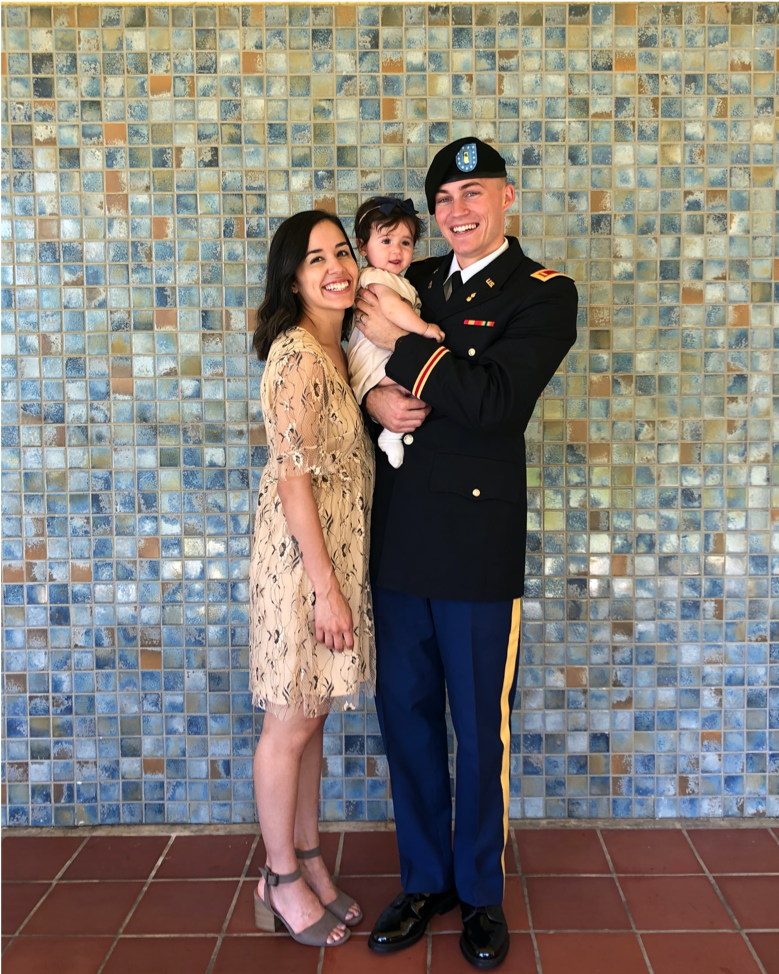 MS: What have you learned about yourself since your family's transition into the military?
MP: I have learned how much I love connecting with people. Dancing has naturally brought many people into my life through workshops, conventions, and the everyday studio time. My husband and I have been blessed with an amazing community of artists in the dance world. Since joining the military, I have found it extremely difficult to connect with people. I find myself having to really put myself out there to be able to connect with other spouses. Whether it is a mom's group or going to visit a neighbor, making and keeping friends has not come as easy as it did before the military. I have also learned how to be adaptive to whatever the military hands our family. By no means have I mastered the ability to adapt to it all. I still get frustrated that plans change and that we cannot have my husband at home as much as we would like. But I have grown into the understanding of what it means to be a military spouse and the roles I must play when things change. It has been a refresher and a reminder to myself that I need more grace as we continue to adapt and learn. Learning to adapt to the situations the military gives us has really given us an appreciation for the little things in life like dinner together, night/morning routines, or spending weekends together as a family.
MS: What is one piece of advice you would give to new spouses joining the military if you could?
MP: The biggest advice I could give to new spouses joining the military would be to give yourself and your spouse as much grace as possible. The process of adjusting to life in the military takes time and, truthfully, I don't think any military spouse will tell you that you ever fully adjust. Every day will look different. There will always be time apart, PCSing, and reunions. When you feel like things are out of control (which will happen a lot) remind yourself that you are doing what you can with what you have been given. Your journey, as a military spouse, has just as much purpose and significance as your spouse's. Also remind yourself that it is not your spouse's fault that he/she must stay late at work a few nights or that they must leave without a moment's notice and won't be home for a while. Show yourself grace and reach out to other spouses when you can. Chances are you are not in this alone. There is probably another spouse, in the same unit as your significant other, that is feeling just as anxious, frustrated, or alone as you are.
MS: Would you agree that military spouses are warriors of a different kind? If yes, why?
MP: Yes, I think they are warriors of a different kind. I have met some amazing spouses who are some of the bravest women I know. I believe that while our spouses' battles are abroad, ours as military spouses are within our homes. We are fighting for our marriages, children, and homes to thrive. When life gets messy and they are miles apart we choose to continue moving forward as our spouses do.
MS: Have you found being a military spouse requires more than you expected? If yes, why?
MP: I honestly think that it requires a lot more than I expected. Mostly because I did not understand the lifestyle that military spouses lived. I was given a ton of advice from military spouses on what life would look like and ways to navigate this new journey, but nothing prepares you quite like living it. You will never be prepared for such a life either. It is just something that you learn and adapt to with every season you and your spouse experience with life in the military.
Melissa said that dance is like "an outlet to escape life's troubles; a place where the goals you set are achievable and you could thrive; a space where worries and fears can be laid aside and the emotion from that can be channeled through movement." I can't help but think that this may be why Melissa has danced so beautifully into the military. Is it possible that the best way to approach all of these enormous adjustments and obstacles in this military spouse life may be to dance right through them?