See this and more inside the December issue of Military Spouse Magazine!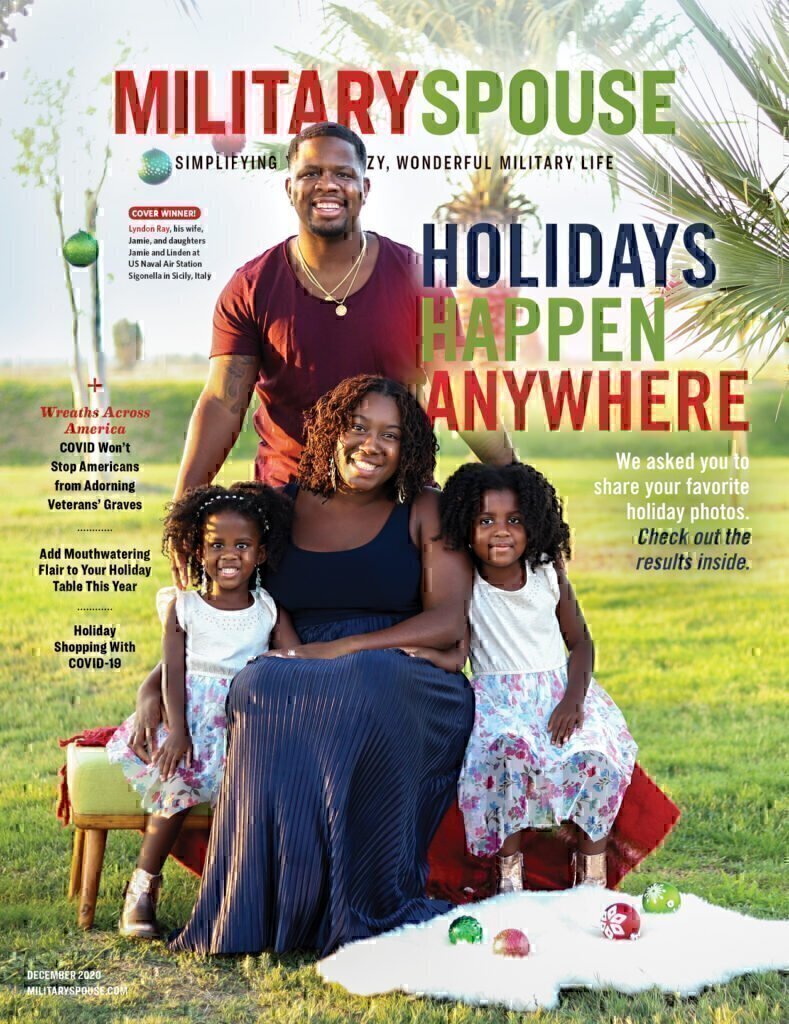 The holiday season and food go together. Hanukkah, Christmas, and New Year's Eve are wonderful times to give thanks and celebrate with your family and friends. Cooking can play a big role in preparing for these celebratory occasions. Although this year has been challenging, we can still make the holiday season fun by firing up the stove or oven and creating mouthwatering food from appetizers to desserts.
At our house, my wife and daughter have been putting their culinary skills to work preparing happy hour drinks, pre-dinner appetizers, delicious entrees and post-meal sweets. It is taking a lot of exercise to keep me from gaining the COVID-19! Being at home more has allowed for meal experimentation that doesn't usually occur when the normal hustle of work, school, travel, and extracurricular activities have us looking for the easiest way to feed our families. With more home time ahead of us, why not practice and enhance your cooking skills?
How about starting with a drink?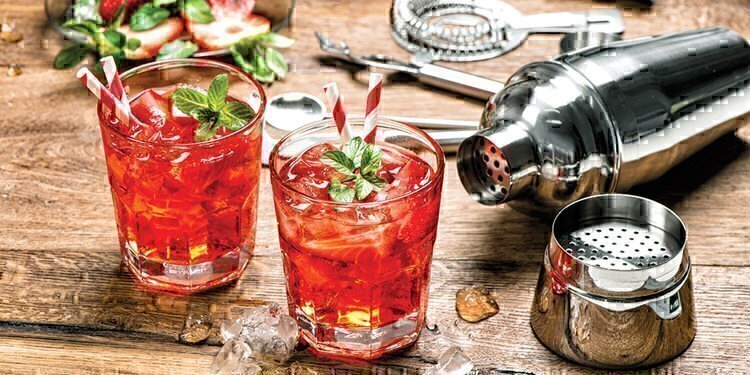 A festive sangria can add flair to the table. This colorful and refreshing drink takes minutes to make and can be served in individual glasses or in a large punch bowl or pitcher. But be careful…it can go fast! The mixture of red wine, brandy, pomegranate juice and Sprite makes for a refreshing holiday themed beverage. Add frozen strawberries or other fruit to keep it chilled.
But, what to cook?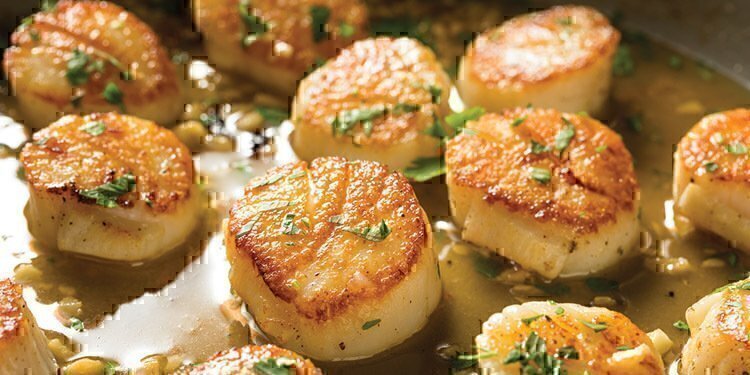 The options are endless, but I always look for meals that are easy to prepare. Scallops top my list. They are delicious and incredibly easy to cook. In just 10 minutes you can prepare scallops as an hors d'oeuvre or a main course. Two to three minutes on each side until golden brown and you are done. Eat them alone or pair with a salad and rice. A truly simple and tasty meal. Even better, you can buy the number of scallops you need, saving money and eliminating waste. I buy 3-4 sea scallops per person. Other seafood options like salmon or shrimp can also be prepared in just a few minutes on the grill or stovetop.
"Cooking is all about people. Food is maybe the only universal thing that really has the power to bring everyone together. No matter what culture, everywhere around the world, people eat together."

Guy Fieri
Not a seafood lover? Baby lamb chops are a treat that can be quickly prepared and used as an appetizer or main meal. Heat up the grill, lightly rub the chops with olive oil and grill for a few minutes on each side. Add salt and pepper to taste. Slice up some fresh mozzarella cheese and tomato slices for an easy and sumptuous meal.
Sweet Time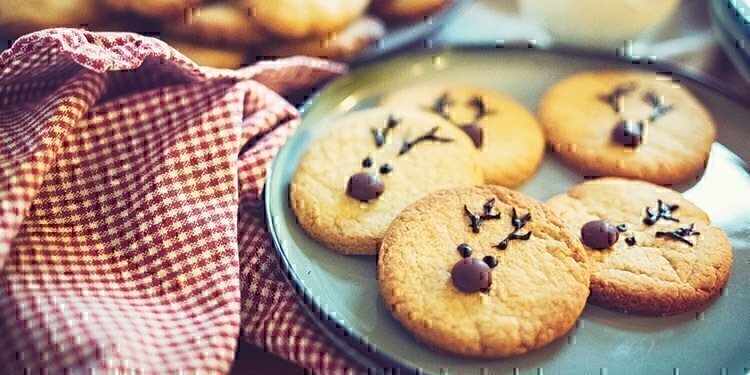 I prefer light meals that allow room for dessert. The local bakery is great to add some harder to make sweets like my favorite, eclairs, or a slice or two of creamy cheesecake. Our family holiday table always includes holiday-themed reindeer cookies. Keeping with the ease of preparation theme, simply buy some premade cookie dough. No need to lug out that bag of flour—really, no one will know! Use some small pretzels for the antlers, chocolate chips for the eyes, and an M&M for the nose. If you prefer to cook from scratch just swap out the premade dough with your own sugar cookie recipe. Another simple but tasty way to make this holiday season special.
As Julia Child once said, "Learn how to cook. Try new recipes, learn from your mistakes, be fearless, and above all have fun!" Enjoy the holidays.
Festive Sangria
What you need:
Red Wine: 1 bottle
Pomegranate Juice: 1 cup
Sprite: 1 can
Blackberry Brandy: ½ cup
Lime: 1 (cut into rounds)
Pomegranate Seeds: 1 cup
Frozen Strawberries: Use in place of ice
How to prepare:
Place frozen strawberries, pomegranate seeds and lime into pitcher or large punch bowl
Add wine, juice, Sprite and brandy
Mix together and enjoy!
__
Delicious Scallops in 10 Minutes!
What you need:
Sea Scallops: 12
Extra Virgin Olive Oil: 2 Tablespoons
Unsalted Butter: 1 Tablespoon (optional)
Sea Salt and Pepper (optional): To Taste
How to prepare:
Pat dry scallops with paper towel
Heat olive oil in large skillet pan
Add scallops to HOT pan, leaving space between them.
Cook one side for 3 minutes until golden brown.
Turn scallops over and add butter if desired.
Cook second side for 3 minutes more.
Serve alone as an appetizer or as a main course.
__
Reindeer Cookies
What you need:
Premade sugar cookie dough roll: 1 package
Small pretzels
M&Ms
Chocolate chips
How to prepare:
Slice dough into ¼" rounds
Place antlers (2 small pretzels) at top of cookie. Be sure to push in.
Use 2 chocolate chips for the eyes
Add one M&M for the nose
Bake as directed on the package
Captain Scott Gibney, USN (Ret.) is a graduate of the U.S. Merchant Marine Academy and a 30-year U.S. Navy veteran. He and his wife, Susan, own Gibney College Solutions LLC (gibneysolutions.com) a company focused on college planning, career development and financial coaching. Scott can be reached at [email protected]