PCSgrades announces the #MilFamsGiveBack campaign, which will donate $5 to a military-friendly or veteran-led charity for every neighborhood review left on their site from November 18 until December 8. This campaign celebrates National Military Family Appreciation Month (November), and Giving Tuesday (December 1) by simultaneously supporting both military families and their favorite charities.
The campaign is aligned with the PCSgrades belief that military families support each other. It allows participants to give back two-fold:
Neighborhood reviews of on-base and off-base housing help military families who are preparing for a PCS move with trusted information from fellow families who have lived in those locations.
The charitable donations will be distributed to the selected charities at the end of the campaign to aid a wide variety of initiatives important to military families and veterans.
During the campaign, participants can select a military-friendly or veteran-led charity from the menu on the #MilFamsGiveBack landing page. If your favorite military charity is not listed, there is a button to request to add a charity, which will be promptly handled. Charities include large, national organizations such as the USO and Blue Star Families, as well as smaller nonprofits run by veterans or military spouses, such as The Unquiet Professional (Gold Star family support) and The Bautista Project (aid for the homeless). After selecting a charity, sign into PCSgrades–membership is FREE–and leave your housing review in the Neighborhoods or Base/Post Housing sections.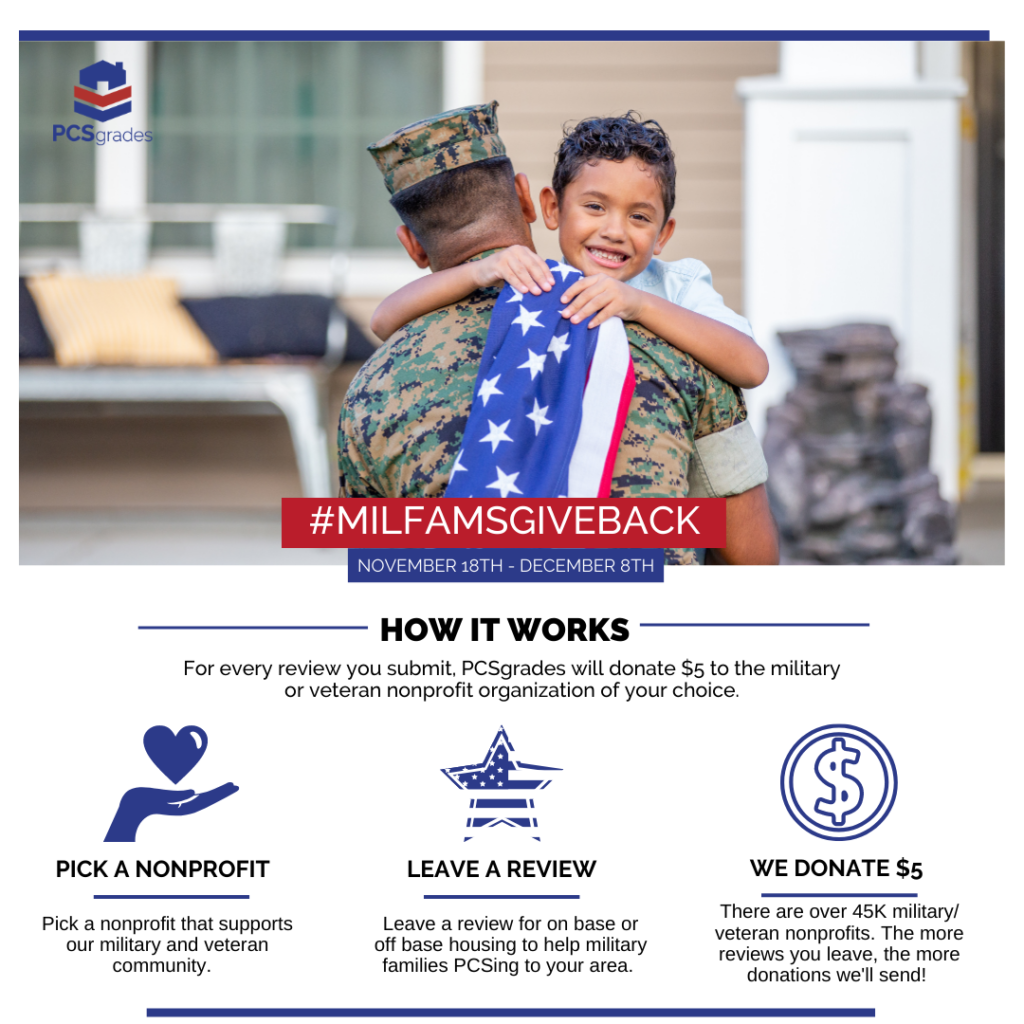 The #MilFamsGiveBack campaign is focused on housing reviews. Anyone associated with the military, veteran, and spouse community can leave a review for a neighborhood on or near a duty station in the United States. You can leave a review of any area where you have previously lived or are currently living. Participants can increase their charitable donations by leaving reviews for multiple locations by clicking on the "Add another" button at the end of the review process. At the end of the campaign, PCSgrades will tally the contributions and reach out to each charity to make the donations in the name of the #MilFamsGiveBack Campaign.
"It's like giving back, on steroids!" says PCSgrades Director of Community Outreach MJ Boice. "PCSgrades already gives back to military families on a daily basis, by providing a platform for our community to have their voice heard and share trusted reviews with each other. And we offer a cash back reward for those who buy or sell a home in our network. This is just an expansion of our philanthropic efforts in our community."
Boice explains that charitable giving is important at the end of the year, particularly after all the turmoil of 2020. "Everybody is hurting. Right now, a lot of nonprofits are doing their end of the year push for donations. In order for them to continue supporting us, this is a great way to support them."
PCSgrades is an online platform that supports the biggest relocation needs for military members, veterans, and military spouses through trusted community insights and access to the best real estate resources.
Pick a Nonprofit. Leave a Review. We Donate.
Press Contact: MJ Boice PCSgrades Director of Community Outreach [email protected]
Natasha Harth VP Business Development and Strategic Relationships [email protected]