Sponsored
There is nothing we love more here at Kensington than helping people discover their new favorite author. Giving someone a book they truly love and enjoy is one of the best feelings there is so we've decided to spread our love of books as far and wide as we can. Kensington will be featuring giveaways on this page exclusively for the Military Spouse Community. Hand-picked by our staff, these giveaways are some of our favorite books. We hope you enjoy them as much as we did!
Win a copy of Lavender Blue by bestselling author Donna Kauffman!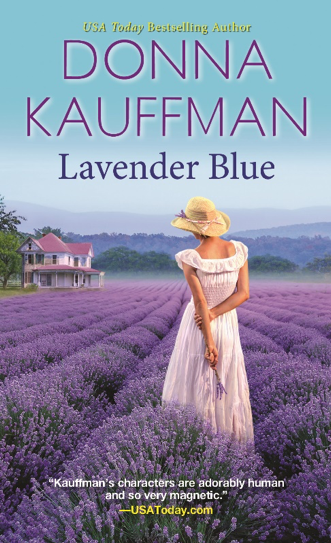 In the beautiful Blue Ridge Mountains lies a small town with a big heart—and a chance to begin again. . .
When Hannah Montgomery buys a lavender farm in Blue Hollow Falls with three friends, she's creating a life she never imagined—one she hopes will honor the memory of the sweet young son she tragically lost years ago. Standing on the porch of the sprawling farmhouse, looking out on row upon row of those lush purple plumes, Hannah is ready to embrace this fresh, new start . . .
Then she meets Wilson McCall. The stonemason hired to fix their crumbling chimneys and leaky roof is quieter than most folks in the Falls. Hannah's not surprised to learn the widower struggles with his own grief. Who could blame her if she finds joy in making Will laugh again, or if she feels a poignant kinship when she sees him with his teenaged son? But her deepening friendship with Will reminds Hannah that there's a part of her that still needs to heal—awakening a tender yearning to have a life that isn't just good enough, but lived fully—even if that means taking risks once more . . .
USA Today bestselling author of the Bachelors of Blueberry Cove series, DONNA KAUFFMAN has been gratified to see her books get rave reviews in venues ranging from Kirkus Reviews and Library Journal to Entertainment Weekly and Cosmopolitan. She lives in the beautiful Blue Ridge Mountains in western Virginia, where she is presently applying her crafty DIY skills to decorating her new mountainside abode. When she isn't busy trying to keep the bears from hanging out in her flower and vegetable garden all day and night, she loves to hear from readers! You can contact her through her website at www.donnakauffman.com.
Enter To Win a copy of LAVENDER BLUE by Donna Kauffman by filling out the Rafflecopter below! Each winner will receive a copy the book!
This giveaway will be open until 11:59pm on February 28th 2019. USA and Canada entries only. 10 Winners will be selected!
a Rafflecopter giveaway