By: Brian Alvarado, Navy Spouse (Ret.), 2018 AFI Navy Spouse of the Year, Senior Manager, Military Spouse Program, Hiring our Heroes
Catching up with Second Lady Karen Pence on her efforts to advocate for military spouse employment.
—>> Read it all inside the January Issue of Military Spouse Magazine
Second Lady of the United States, Mrs. Karen Pence continues to advocate for military spouse employment as she travels the globe discussing the issues of unemployment and underemployment in the military spouse community.
With an average of four times the national unemployment rate, the challenges and potential solutions surrounding military spouse employment continues to be an important conversation. From the human resource departments of the nation's businesses to the Eisenhower Executive Building at the White House, the efforts of many continue to break down barriers and create career opportunities for military spouses.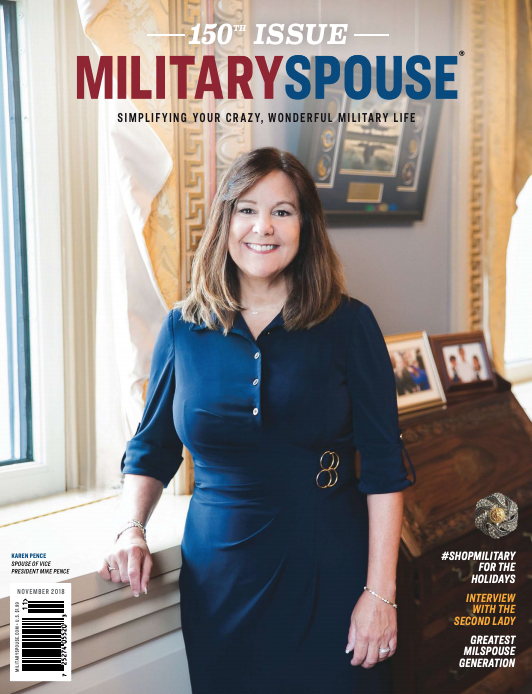 For the past year, Mrs. Pence has continued her mission to put a spotlight on military spouse employment. "We are challenging businesses and organizations, to come along side and come up with creative ways to hire, and more importantly, retain these military spouses," said Mrs. Pence who added that, in roundtable discussions with military spouses, employment was the most talked about topic.
Mrs. Pence sees the challenges of military spouse life first hand in her own family. Her son, Mike is a pilot in the Marine Corps and her daughter, Charlotte is engaged to an officer in the U.S. Navy. "Military spouses are truly the salt of the earth. The sacrifices they make are unbelievable. Personally, being able to be around these men and women is so inspiring to me," she said.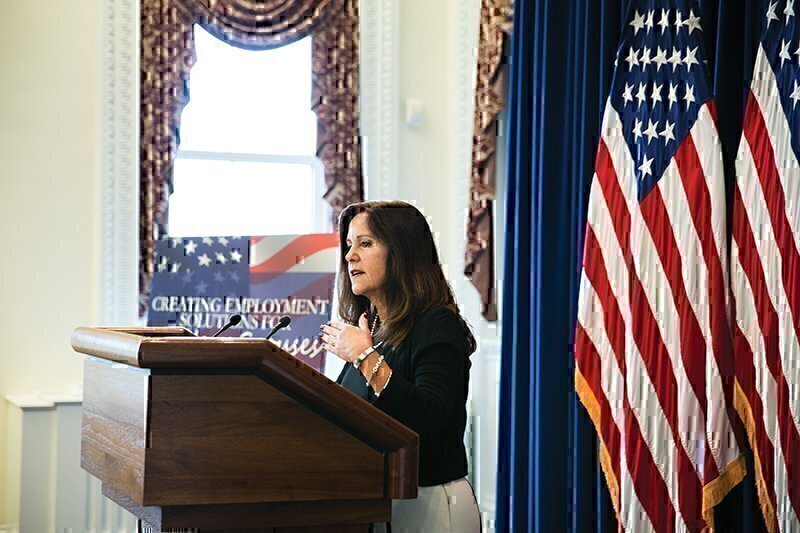 The Second Lady of the United States has been spreading the message of military spouse employment throughout 2019. These are just some of the events she attended this past October and November:
On Oct. 2, at the Military Spouse Economic Empowerment Zone (MSEEZ) Designation Ceremony for the state of Texas hosted by the U.S. Chamber of Commerce Foundation's Hiring Our Heroes, Mrs. Pence said "Military spouse employment is a very important aspect of a strong and resilient military. We know that if the spouses aren't happy, the service members are going to get out of the service. We see it. It just makes sense. I've given you eight years; you've gotten to do what you love, now it's my turn. It's unfortunate that it has to be one way or the other."

MSEEZ create grassroots working groups in communities around military communities helping to bridge the gap between the military installation and the areas in which they are located. They bring together pillars of industry and local leaders to determine the needs of the spouses specific to that geographic location.

On Oct. 22, Mrs. Pence delivered remarks to business leaders, military service members, military spouses, and senior leaders from both government and non-government military service organizations at the 2019 Military Spouse Employment Partnership (MSEP) New Partner Induction Ceremony. This partnership has created a network of nonprofit, business, and government agencies that have committed to train and hire military spouses, who currently face a 24% unemployment rate.
"Military spouses are strong, reliable and flexible. They are the kind of worker we want in the American workforce," said Mrs. Pence. "I commend the commitment made by the partners to recruit, hire, promote, and retain military spouses. The work of the partnership will make a difference and help our nation's military readiness."
On Oct. 24, Pence invited the nation's senior military spouses to the Vice President's residence at the Naval Observatory in Washington, D.C. to discuss ways to improve career opportunities for military spouses. A large part of their conversation centered around the portability of state licenses and credentials. "A third of all military spouses work in a licensed field. If we can get the states to recognize these licenses, that at least alleviates one problem," Mrs. Pence said.

Mrs. Pence is continuing to host periodic meetings with government and non government organizations as well as industry leaders to address military spouse unemployment and underemployment including hosting a second business summit on Nov. 20 at the Eisenhower Executive Office Building at the White House. Companies, such as Amazon, BMS, Deloitte, and Lockheed Martin, presented their efforts in the space and offered ideas to other businesses in attendance. Pence joked that they are going to have to start getting a bigger room for these meetings because it was packed wall-to-wall. This is evidence of the growth of the conversation, and her bringing more and more people into the fold to find solutions.
Mrs. Pence sees military spouse employment as a long-term effort, not something to be completely alleviated overnight or even in a few years. However, she feels the efforts are moving in the right direction. "A lot of the solutions are in the works now. We are seeing governors, state legislators, and businesses all brainstorming and sharing best practices," she said. "Our military spouses are well educated, they are well-trained … they want that opportunity to have that career. They have great resumes, and we want to put those to work."
"I look at these (military spouses) and think, wow. They inspire me. They challenge me," Mrs. Pence said. "We see you, we hear you, and we stand with you."